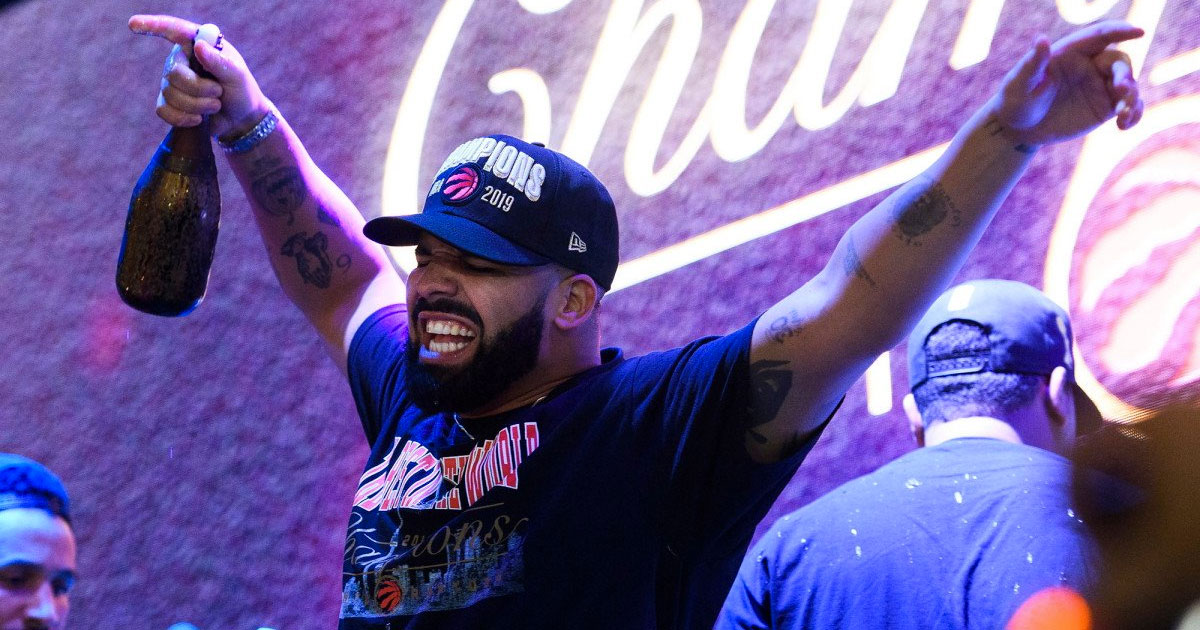 The Toronto Raptors won their first-ever NBA title in Oakland Thursday night (Jun. 13) after defeating the Golden State Warriors in Game 6 of the 2019 NBA Finals.
And there's no one in the world happier than Drake right now:
Drake is PUMPED! ???

(?: @TSN_Sports)pic.twitter.com/gqKHveF3IS

— theScore (@theScore) June 14, 2019
Especially since the win also marks the official end of "The Drake curse."
The Drake curse is over ?? pic.twitter.com/ZhimNFaQQi

— Bleacher Report (@BleacherReport) June 14, 2019
In addition to popping ALL of the bottles tonight, Drake—a Toronto native and the official ambassador for the Raptors—is celebrating the huge victory by releasing not just one, but TWO brand new songs.
The Raptors superfan took to Instagram early Friday morning (Jun. 13) a little after midnight and announced the titles of two songs he plans to release this weekend: "Omertá" and "Money in the Grave" (feat. Rick Ross).
He wrote in the post's caption:
"THE CHIP TO THE 6!!!!!!!!!!!! SEE YOU 2MRW WITH A 2 PACK LETS GOOOOOOOOOOOOOOOOOOOOOOOOOOOOOOOOOOOOOOOOO"
Following the Raptors' big win, Drake—dressed from head-to-toe in Raptors championship gear and holding the Canadian flag—spoke to reporters in a post-game interview, calling the moment "poetic" and saying that the team and its fans (including himself) "willed this into existence."
"You just have to watch it happen," he said. "The six in six. Kyle Lowry with a ring. Kawhi Leonard bringing a chip to the city. I want my chips with the dip, that's all I know. I don't want my chips plain. I want my chips with the dip. So bring them dips. That dynasty's over. We did what we had to do."
Drake also said that he was praying for the injured Kevin Durant and David Ortiz, the latter of whom was shot in the Dominican Republic, but this night was all Toronto's.
"We did this off of heart," he continued. "We did this off of love. We willed this into existence. We manifested this … I told you the first time. People like to make memes … make another meme out of this. It's beautiful."
He concluded: "You see what my hats says, not Finals, not Eastern Conference, not nice try or see you next year, [but] champions … Let's go! Real talk."
Drake speaking on the Raptors being the 2019 NBA Champions. pic.twitter.com/wKctbSB44N

— Word On Road (@WordOnRd) June 14, 2019
You already know Drake's next album is gonna be FIRE!
Be the first to receive breaking news alerts and more stories like this by subscribing to our mailing list.