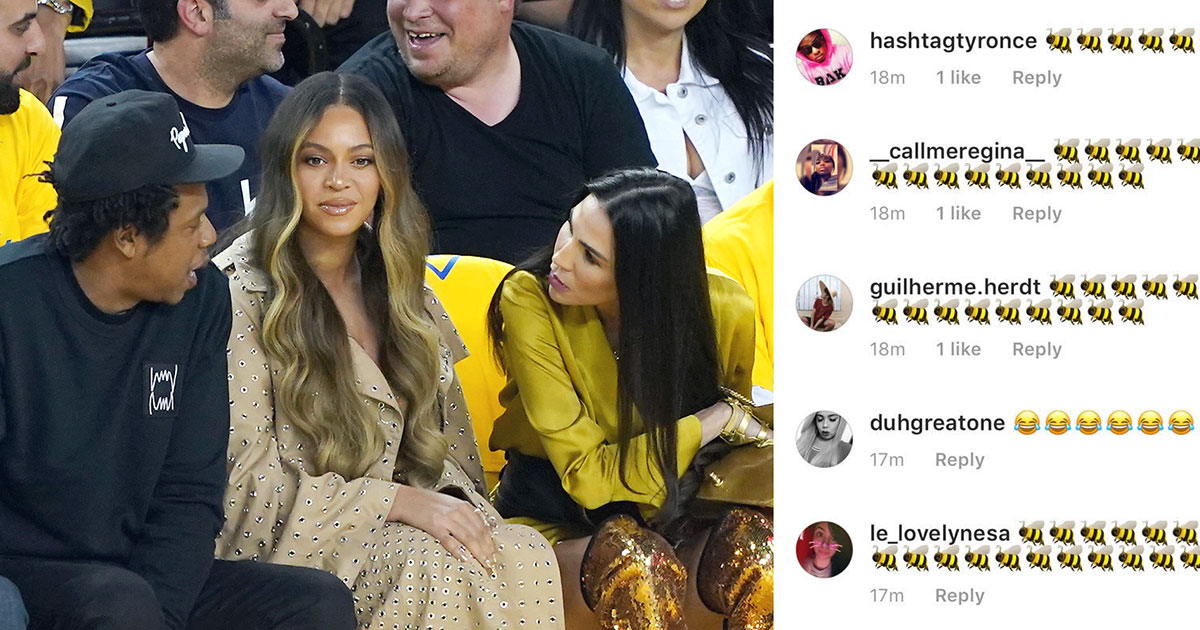 When it comes to devoted and overzealous fan bases, there are few out there that can compete with Beyoncé loyalists, otherwise known as the Beyhive.
They have stung and attacked many a celebrity and while sometimes, it's warranted and funny, more often than not, it's too much for no good reason.
Case in point: Beyoncé and Jay Z made an appearance courtside for Game 3 of the 2019 NBA Finals, which features the Golden State Warriors vs. the Toronto Raptors.
Nicole Curran is the wife of Warriors owner, Joe Lacob. She was seated next to Bey and Jay at the game and at times, Bey appeared to be disinterested in their conversation. But the Hive really lost it when Nicole reached over Bey to have a conversation with Jay.
Jay-Z and Beyoncé are courtside for Game 3 ? pic.twitter.com/6mmJuN8Odn

— ESPN (@espn) June 6, 2019
Queen B had been DISRESPECTED in the eyes of her honey bees. Which led to the signature bee emoji swarming on Nicole's Instagram page:
As tends to happen with the Hive, particularly the YOUNGER members of the Hive, things got out of pocket in Nicole's comments section, with the basketball wife claiming that she was told by several Hive members to "kill herself."
Rightfully, Nicole wondered out loud if Queen B would actually support this kind of aggression and behavior.
Most sensible people could conclude that Beyoncé probably wouldn't want her fans sending death threats over social media just because a rich, white woman made small talk with her and husband.
If you're really curious about the details, Curran claims she was just asking the couple what they wanted to drink.
And after receiving death threats throughout the night and early morning from overzealous Beyhivers via social media, Curran was "in tears," according to ESPN reporter Ramona Shelburne, and deleted her Instagram account.
Just spoke to Nicole Curran, the wife of Warriors owner Joe Lacob, about the "incident " with Beyoncé last night. She was in tears. Said she had been getting death threats on social media all night this morning she disabled her IG account just to make it stop.

— Ramona Shelburne (@ramonashelburne) June 6, 2019
Curran said she had no idea anything was even amiss until she got home and started seeing texts from friends and checked her social media. She's invited Jay Z and Beyoncé to the game 3-4 times before. Last night she says she asked if they wanted drinks. Beyoncé asked for water

— Ramona Shelburne (@ramonashelburne) June 6, 2019
Curran says Jay Z asked for a vodka soda. She asked if he wanted lime with that. But it was loud in Oracle and she couldn't hear, so she leaned over. That's where the photos of Beyoncé looking askance at her come from.

— Ramona Shelburne (@ramonashelburne) June 6, 2019
Meanwhile, Beyoncé is too classy to address her fan base's ratchet behavior herself, so she sent out her PR rep, Yvette Noel Schure to do her light work for her and inform the Hive that they needed to SIMMER DOWN a bit and chill with the social media drive-bys, cause the Queen was NOT pleased.
Now the question is … will the Beyhive actually listen? Or is it gonna take a bit more than a stern Instagram post from Beyoncé's publicist to break the bad behavior?
Be the first to receive breaking news alerts and more stories like this by subscribing to our mailing list.