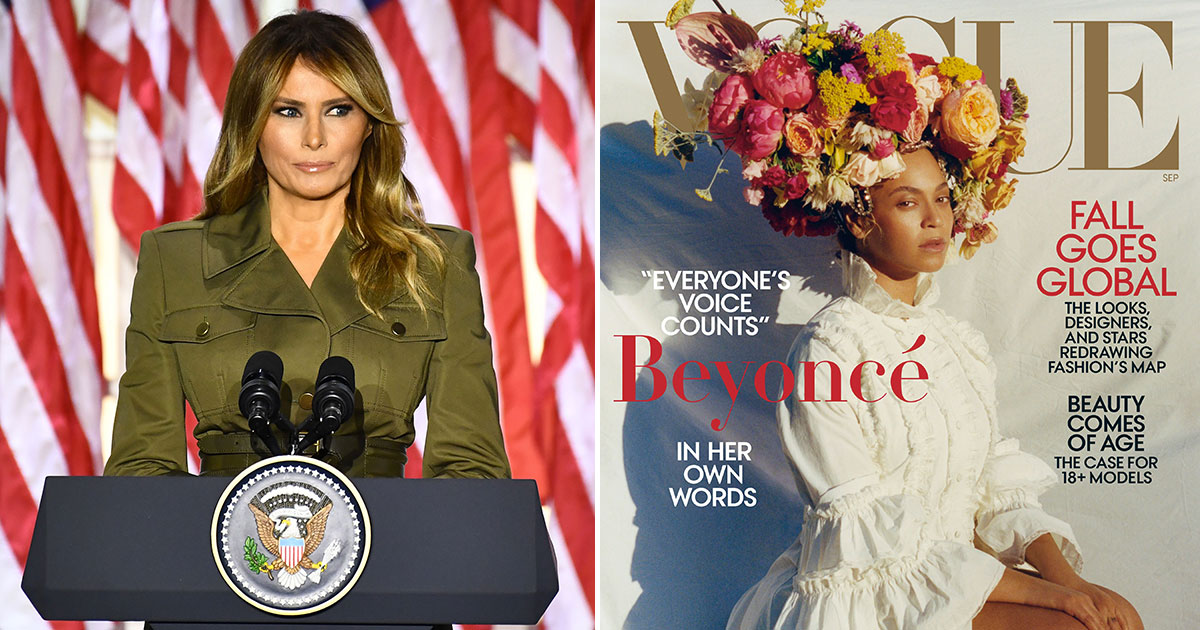 First Lady Melania Trump appeared to be "astonished" over Vogue magazine's decision to give Beyoncé not just the cover of its September 2018 issue, but also complete control over it, NBC News reports.
"Anna [Wintour] gave the September issue of Vogue cover—complete, complete, complete, everything—to Beyoncé," Mrs. Trump was reportedly recorded telling her former friend and aide Stephanie Winston Wolkoff back in July 2018.
"She hired Black photographer," Melania said of Beyoncé's cover. "And it's the first black photographer ever doing cover of Vogue."
Melania's predecessor Michelle Obama was featured on the cover of Vogue not just once or twice, but THREE times, while Barack Obama was in office.
For what it's worth … Hillary Clinton also appeared in the magazine.
But, as for Melania—who is a former model—she has not graced the pages of the popular fashion monthly since her husband was elected in 2016.
Melania was also reportedly recorded complaining about porn star Stormy Daniels—who allegedly had an affair with President Trump back in 2006 when he was a civilian—was photographed for Vogue in 2018.
In a recording first heard on former Trump lawyer Michael Cohen's podcast, Melania called Stormy a "porn hooker," which drew a nasty response from Daniels earlier this month.
"You sold your p**sy AND your soul," Daniels tweeted about Melania's relationship with the President.
The latest recording also reportedly includes a comment from the first lady claiming she's not interested in Wintour's fancy magazine.
"I don't give a f**k about Vogue," Melania told her former friend.
Trump's spokesperson released a statement to NBC attacking Winston Wolkoff, who wrote the book "Melania and Me: The Rise and Fall of My Friendship with the First Lady," but the statement didn't directly address the first lady's remarks about Beyoncé.
"Her narcissism knows no bounds, this woman is a fraud," the spokeswoman, Stephanie Grisham, said of Winston Wolkoff.
"These audio tapes are hand-picked about nonsense and presented with no context. Shame on her for this continued attempt at character assassination and shame on NBC for covering this gossip."
Melania was supposed to join her husband on the campaign trail in Pennsylvania Tuesday, but was forced to cancel due to lingering symptoms of COVID-19, which she and the president contracted weeks ago.
Mrs. Trump so far hasn't campaigned for President Trump's re-election efforts in 2020.
Be the first to receive breaking news alerts and more stories like this by subscribing to our mailing list.