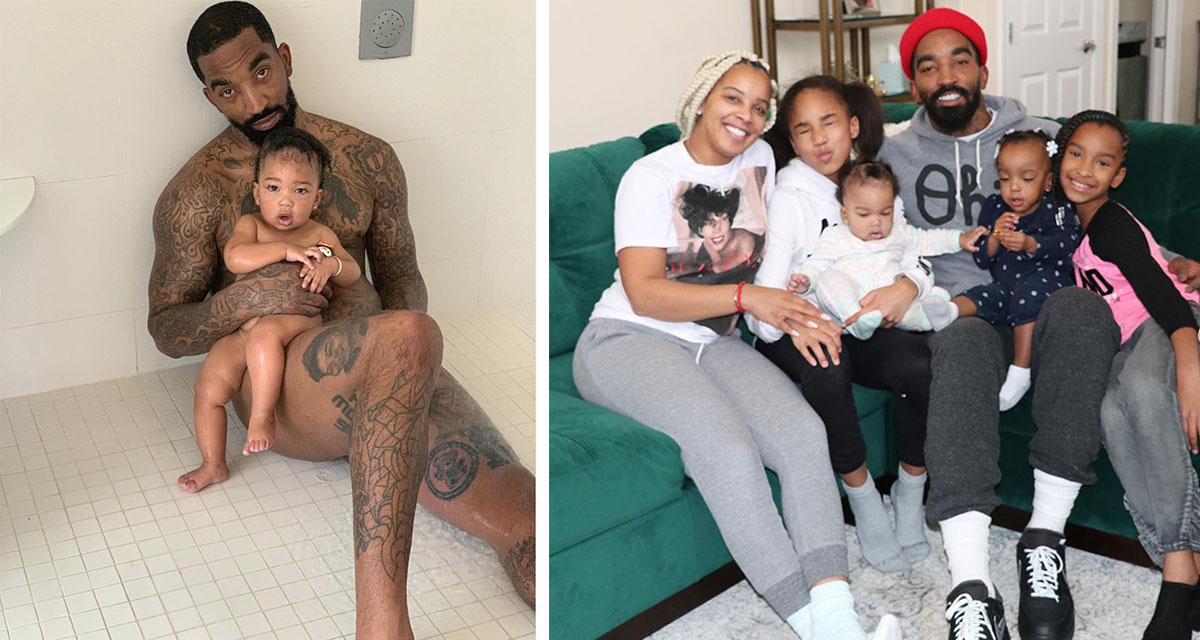 In this day and age, everything having to do with gender norms is up for debate, reimagination and revision.
Whether it's the idea of men playing the role as a stay-at-home parent or the concept of wealthy women (like Mary J. Blige) having to pay alimony to their lower-earning husbands or Young Thug wearing a dress for his album cover, what's considered acceptable for a man to do has never been more fluid than it is today.
But I'm not quite sure we're ready for what former Cleveland Cavaliers player J.R. Smith is putting on the table in the name of the mens' revolution: Nude paternity photo shoots.
https://www.instagram.com/p/BvxXcnmF1F1/
J.R. Smith is in between teams, as it was announced in November last year that he'd no longer play for the Cavs. The Cavs agreed to work with him to secure a trade deal, but nothing has materialized as of yet. So J.R. is sitting at home with nothing but time on his hands.
He had his fourth child, Denver, last year in June and that's who he's pictured with, butt-naked in the shower. As a father of four girls, J.R. has his hands full and he appears to be a very doting father based on what he shares with us on social media.
So who knows WHY J.R. was naked in the shower with his baby. If you've had an infant, you know that blow-out diapers are a thing and a simple clean-up job with wipes won't do.
Or, if the baby is sick and they're expelling liquids from both ends, the best thing to do is sit with them in the bathtub while all of the action happens.
But Denver doesn't look sick and miserable so … that's just me trying to make sense of this since J.R. offered no context to the photo as his caption simply said: "My sign ain't water but we #AquaBeingsOverHere."
While a professional photographer wasn't hired, this photo (taken by WHOM???) was clearly staged as J.R. had to pose himself and his daughter in such a way as to not expose their genitalia. Which means he wanted this picture out there for public consumption. But why?
Social media users were in search of answers but they didn't really know what to do with J.R.'s shower shoot.
Ladies y'all letting y'all daughters shower with their fathers? pic.twitter.com/z1JCbEkiI8

— 6'4 KING (@SplashyStackss) April 3, 2019
I'm so glad other people agreed with me about how weird it was JR Smith was naked in the shower with his daughter like that ..

— Khi. (@Fashion_Rasta) April 4, 2019
I don't think anyone jumped to sexualize JR smith or the baby.. we just wanted to know what the fuck was going on? That shower looks like you need shoes to be in it and your bare ass crack & balls are touching the tiles ?

— Clair (@Cripperella) April 3, 2019
Honestly, though, when we compare it to what women routinely do for maternity shoots and with their children, is J.R.'s shower pic that problematic?
So is J.R. Smith merely blazing a trail for men so that nude paternity photos like this won't raise an eyebrow?
Or is this picture just wrong and inappropriate regardless of where we are in our progressive evolution of gender roles and norms?
Be the first to receive breaking news alerts and more stories like this by subscribing to our mailing list.