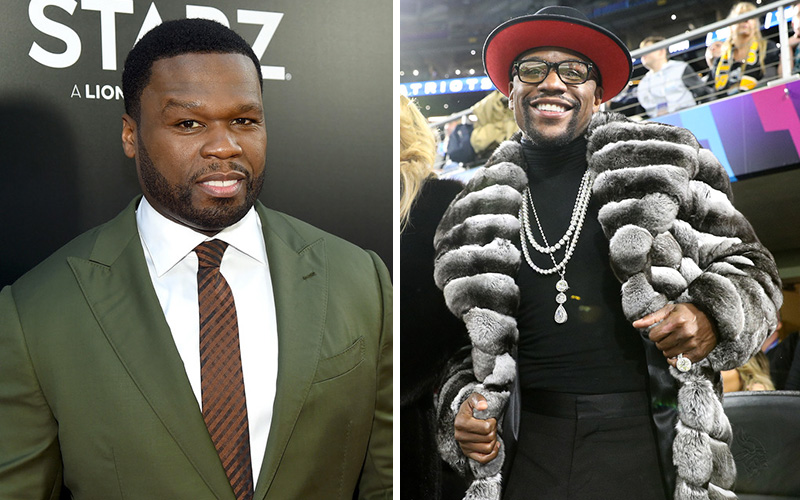 What started out as a calm Saturday afternoon ended up in complete shambles after Floyd Mayweather launched a scathing attack against his longtime frenemy 50 Cent.
On Saturday (Jul. 21), via a lengthy Instagram caption, Mayweather, apparently responding to recent jabs from 50 Cent, fired off on his former BFF about everything from his baby mama, to his son to his career, even going as far as to infer that he is a snitch.
In the caption of a black-and-white photo of 50 Cent with the words "Curtis Five-O Jackson Go Snitch or Die Tellin," Floyd wrote:
Curtis "Confidential Informant" Jackson, you're mad because your oldest son Marquees mother doesn't want to be with you! Your Son, your own flesh and blood don't want nothing to do with you! You haven't had a hit song on radio in who knows when and you're definitely not hot enough to even sell records anymore so Interscope dropped you. You are jealous of any rapper, athlete or entertainer that's hot or got something going on for themselves.

You are a certified snitch and we got paperwork to prove it. You talk about Ja-Rule but you stole his whole style and ran with it! You're the only self proclaimed gangster that's never put in work! You need to pay homage to the real 50cent for stealing his name and his storyline. Your claim to fame was getting shot numerous times & living to tell it and you think that's Gangster? Where at?

You're currently living in a fucking apartment in Jersey, you are always in somebody else's business just to stay relevant. You should just become a blogger cause it's obvious you don't have nothing going on in your life. Are you mad that Kanye West ended your career? The only thing you got going on is Power and everybody watches that because Ghost is a dope ass character on the show. You can leave the show everybody will still watch Power, but out here in the real world I'm The Real Ghost.

That's not a Mansion in Connecticut that you're in debt for, that's a dump, a money pit an oversized trap house! It was dope when Mike Tyson had it in the late 80's early 90's, but you couldn't afford to maintain it. You're always talking about somebody is broke, but the last time I checked it was Curtis Jackson that filed for bankruptcy not Floyd Mayweather.

So quick to gossip like a Bitch, why don't you tell everybody how you got Herpes from DJ. Where's your memes for that, huh? Or better yet, post on how your Coca-Cola deal wasn't really 300 million you f***ing liar and tell how that spinning G-Unit necklace that somebody got robbed for was fake. Just remember, I was with you everyday and your driver Bruce was my driver also. I know where all your bones are buried, so be easy Curtis Jackson! And by the way, don't ask to borrow no more money from me.
In the past, 50 Cent has called Floyd Mayweather out for being allegedly illiterate, so whether Floyd can actually read/write remains to be seen. And who knows if he had someone to write that caption for him.
However, THAT was one HELLUVA "read," if you know what we mean. Also, the way he ended it with "by the way, don't ask to borrow no more money from me" was pretty spot on, if you ask us.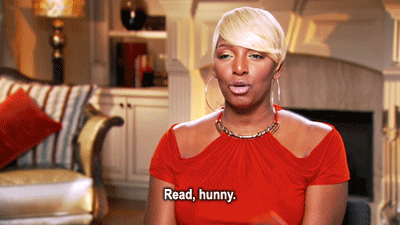 Now, before we get into Fifty's response, let's go back to May when this beef was re-ignited.
In a series of Instagram posts in late May, 50 Cent shared with the world a text message conversation between himself on Mayweather, who was clearly not happy with 50's behavior, telling him that he's dealing with a snitch and all he ever is does is dog people and think about himself. 50 wrote in the caption, "Floyd on his bullsh*** again, he done f***ed that money up. Now he mad about old sh**, I'm not selling your cars back champ, you are n***a. Get the strap."
50 returned a few hours later with a second post, and this time, he accused Mayweather of being "in his feelings."
About a month or so later, 50 trolled Floyd because he dropped $18 million on a watch. "Man they found the 1 n***a in the world, dumb enough to buy that watch," he commented on a picture of Mayweather, followed by his infamous catchphrase "LOL get the strap."
https://www.instagram.com/p/BkisVPQl7N0/?taken-by=50cent
He followed up that post with this one (which he deleted) making fun of Floyd allegedly not being able to read. Underneath a photo of Mayweather and his son at his high school graduation, he wrote in the caption: "He can read whatever you need for you. Get the strap."
https://instagram.com/p/BlBITxFjWFA/?utm_source=ig_embed
Now, back to their latest back-and-forth.
In response to Floyd's scathing IG post, 50 retorted with this IG post insinuating that Floyd had help writing that long post about him:
I must have hurt your feelings champ, you had someone write a book I'm gonna take my time with this so I get it all out we are gonna start with your 11 Domestic violence cases. Wait a minute I'll do them in order remember you asked for this.
https://instagram.com/p/BlgkoAdlWYE/?utm_source=ig_embed
Floyd hit back with another post questioning the paternity of 50's second son and telling 50's first son, Marquise, with whom 50 has been on the outs with over the past few years, "Uncle Floyd still got you!"
In the next round of their "Battle Royale" match, Fifty went after Floyd again over his alleged illiteracy with this video making fun of him struggling through reading a radio drop for the Breakfast Club:
COME ON BABY's LMAO, the Champ so sensitive he turned his comments off. ?get the strap #lecheminduroi pic.twitter.com/TXtB63XZfp

— 50cent (@50cent) July 22, 2018
He also shared a photo of a note with terrible grammar and lots of misspelled words, calling it Floyd's "rough draft before his ghostwriter got involved."
And then Floyd fired back with this photo Sunday evening (Jul. 22), comparing 50's $20 million 2018 net worth to his $18 million watch. The photo on 50's side is of his cancer-stricken character from the movie "Things Fall Apart" with a rat in front of it. "You're Not Supposed To Be Beefing With Me. You're Supposed To Be Beefing With My WATCH," Mayweather wrote in the caption. "Me And You Are Not On The Same Level!!!"
And while we were drafting this post, Floyd followed up with ANOTHER IG attack Monday afternoon (Jul. 23) calling on folks to enter "The Biggest Rat Sweepstakes."
He wrote: "To Enter: 1st, Tell me how many rats are in this picture? 2nd: Go to 50cent IG, twitter and Facebook and post the most disrespectful comment you can possibly think of about The 'Herpes Infested Rat' 50cent. 3rd: Repost On Your Page #50CentGotHerpes. I Promise… The Top 9 Shots Will Recieve $1,000 Each & A Reposts On My Page."
Ball's in your court now, 50.
Be the first to receive breaking news alerts and more stories like this by subscribing to our mailing list.