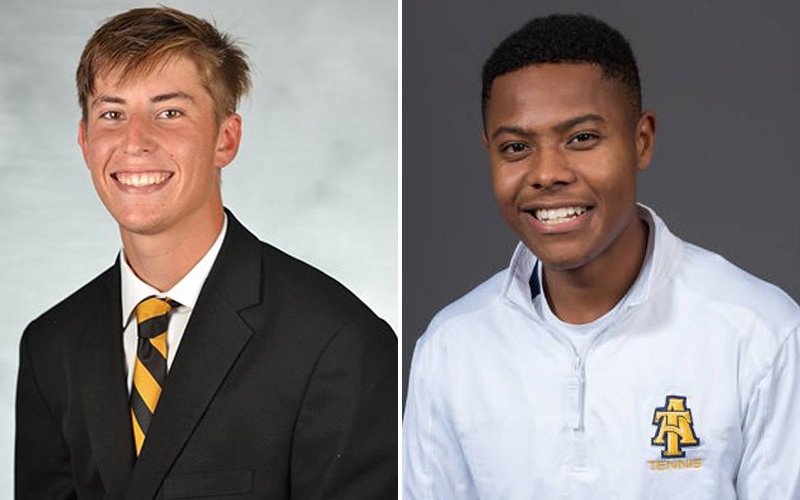 A white college athlete tried trash-talking his black opponent with racially insensitive comments, and got himself suspended because of it.
Spencer Brown of Appalachian State in North Carolina was suspended from the team after making several racist comments towards his black opponent, John Wilson IV of North Carolina A&T. "At least I know my dad," Brown said to Wilson during their match on Sunday (Jan 28).
Wilson shared the incident on Twitter and noted that the App State tennis coach responded to Wilson's concerns by saying: "…we have a black guy on our team."
Hey #NCAT this is Spencer brown, a tennis player at Appalachian state. During our match today, along with other racist comments, Spencer told me, "At least I know my dad." Their coach responded by saying, "..we have a black guy on our team."

Black twitter, do ya thing. pic.twitter.com/ZRN61zCU2n

— John Wilson IV (@jpheze) January 29, 2018
App State Athletics released a statement on Monday (Jan. 29), declaring Brown's comments as "derogatory and offensive." Brown has been suspended indefinitely for violating the university's student-athlete discipline policy.
Statement from App State Athletics: pic.twitter.com/pvDw3SveyV

— App State Athletics (@appstatesports) January 29, 2018
Though App State's statement says they have reached out to NC A&T, Wilson says that he has not been contacted personally by App State. The A&T senior class president added that he's always had to deal with racism as a black tennis player.
Update: Even though I have yet to be reached out personally from the administration of Appalachian State. The athletics program suspended Spencer indefinitely! Thank you all for the help, this is something I've always dealt with being a black tennis player. #NCAT pic.twitter.com/9MqHvTe6fR

— John Wilson IV (@jpheze) January 29, 2018
Be the first to receive breaking news alerts and more stories like this by subscribing to our mailing list.