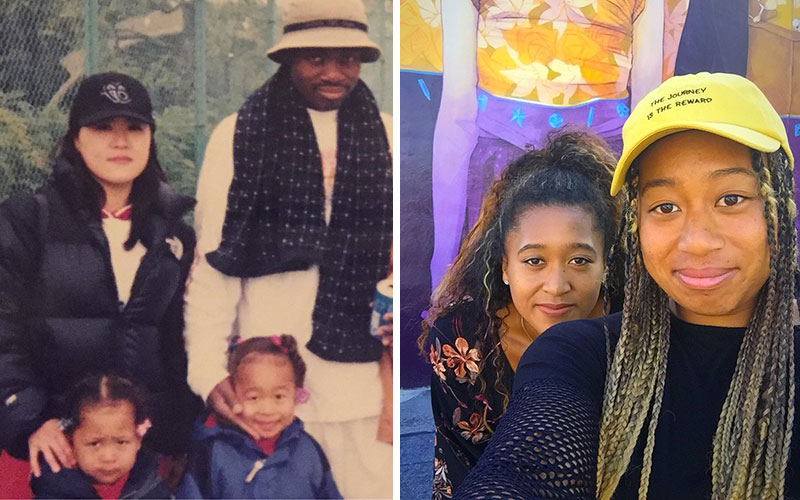 Naomi Osaka, born October 16th, 1997, is an American-Japanese professional tennis player who defeated Serena Williams in the final of the U.S. Open on Saturday (Sep. 8).
Her older sister, Mari Osaka, is also a professional tennis player, and together, the two sisters represent the three cultures they were raised with: American, Japanese and Haitian.
Here's what you need to know about Naomi Osaka and her family:
1
Naomi Osaka's father, Leonard François, is Haitian and her mother, Tamaki Osaka, is Japanese.
Naomi Osaka was born in Ch??-ku, Osaka, Japan, to a Japanese mother, Tamaki Osaka, and a Haitian father, Leonard "San" François.
In Nemuro—a city and port located in Hokkaido, Japan—where Naomi's mother, Tamaki grew up, Tamaki wasn't used to seeing people who didn't like her. But that all changed after she started attending high school in Sapporo, Hokkaido's capital, where she met "a handsome college student from New York," the New York Times explains. That handsome college student, who attended NYU, was Leonard Maxime François, who was Haitian by birth and "one of only a handful of black men in all of Hokkaido," according to the Times.
The culture divide between Osaka's parents led to a number of difficulties in the beginning of their relationship. For instance, Tamaki told the NY New York Times that her father was furious when he found that she was dating a black man and chastised her for bringing disgrace on the family.
The couple then moved to Osaka, where both Tamaki, and Francois, whose Japanese was improving, found work and got married.
As a result of her interracial relationship, Tamaki did not have any contact with her family for over a decade.
2
Naomi's sister, Mari Osaka, is also a professional tennis player.
Much like her U.S. Open opponent Serena Williams, Naomi Osaka's sister, Mari, is also a professional tennis player.
In fact, Naomi and Mari Osaka have been compared to the Williams sisters on multiple occasions. W Magazine ran a feature in their July 2018 issue titled, "Mari and Naomi Osaka Could Be the Next Venus and Serena Williams."
W Magazine's Brooke Marine wrote:
"Though Naomi has just been shockingly knocked out of the 16th round of Wimbledon, at just 20 years old, the tennis star has been a professional for nearly five years… Now, the Osaka sisters follow in the footsteps of Venus and Serena Williams, as two young sisters who are making waves in the field of professional tennis, and crushing their competition both on the court and on social media."
Mari, who is Naomi's older sister by just 18 months, is currently ranked #344 in the women's singles rankings.
3
Naomi and Mari Osaka both took their mother's last name, instead of their father's.
In Japan, a country that is racially homogenous, the Osaka sisters are considered h?fu, which is Japanese for biracial.
Instead of taking their father's last name, the girls used their mother's last name "Otaku," a Japanese surname that that is coincidentally the same name as their birth city, because it made their lives easier for things like enrolling in schools and renting apartments.
The Osaka family moved to Ft. Lauderdale, Florida in 2006 when Naomi was three years old so that they could focus on tennis full time.
Mari Osaka can speak Japanese fluently, while Naomi can only speak it partially.
4
Leonard François trained his daughters and was inspired by Richard Williams, father of Venus & Serena Williams.
Another way the Osaka sisters can be compared to the Williams sisters is the manner in which they received their tennis training.
While watching a broadcast of the French Open in 1999, when the girls were just toddlers, Leonard François became inspired by Richard Williams, the father of Venus and Serena Williams. The Williams sister teamed up to win the doubles title that year, and at that moment, François hatched a plan to turn his daughters into champions.
François had played a little tennis in his earlier years, but Williams, who coached his daughters, had played none at all, so François felt like if Williams could do it, he definitely could. "The blueprint was already there," François said.
And it looks like François' strategy has paid off big time, considering Naomi beat Serena Williams in the 2018 U.S. Open. Serena also previously described Naomi as a "really good, talented player. Very dangerous."
5
Naomi Osaka represents the country of Japan on the court.
Even though she has lived in the United States for most of her life, since the age of three, to be exact, Naomi Osaka plays tennis for Japan. Her father made that decision long ago due to the competition amongst American tennis player,s plus she could command more money as a Japanese player. The NY Times' Brook Larmer writes:
"Osaka has been embraced by Japanese media, companies and fans hungering for a female tennis star. Nissin, one of the world's largest instant-noodle companies, has already signed her to a lucrative deal, as has Wowow, the tennis channel that broadcasts her matches in Japan. The Osaka camp plans to announce a large new endorsement deal before the U.S. Open, and other Japanese multinationals are circling. Osaka's biggest payday may come at the end of the year, when her Adidas shoe-and-apparel contract expires — just in time for the prelude to the 2020 Tokyo Olympics.

"If Osaka played under the American flag, it's very unlikely that these opportunities would exist. Japanese companies would have no reason to court her and U.S. brands would have other higher-ranked young guns to consider, like Madison Keys and Sloane Stephens. But as Japan's top-ranked player, Osaka has the full attention of the country's top brands, whose sponsorship fees can run far higher than those of their Western counterparts."
Asked what it felt like growing up in a multi-cultural heritage household, Osaka said, "I don't necessarily feel like I'm American. I wouldn't know what that feels like."
About her Japanse culture, Osaka told the Washington Post, "Japanese culture? I love everything about it. . . . America, I live here. I train in Florida. . . . And Haiti, if you've ever met a Haitian person, they are really positive, and literally if you're friends with them, then they will do anything for you. That's something that is a really good trait, and I'm really happy that my grandparents and my dad's side of the family is like that."
On playing Serena Williams, Naomi Osaka has previously said that "loves" Serena, and hopes to emulate the famous tennis pro. She said, via USA Today, "I was really impressed by her and wanted to play like her when I was little. Well, I hope I'm starting to play like her now."