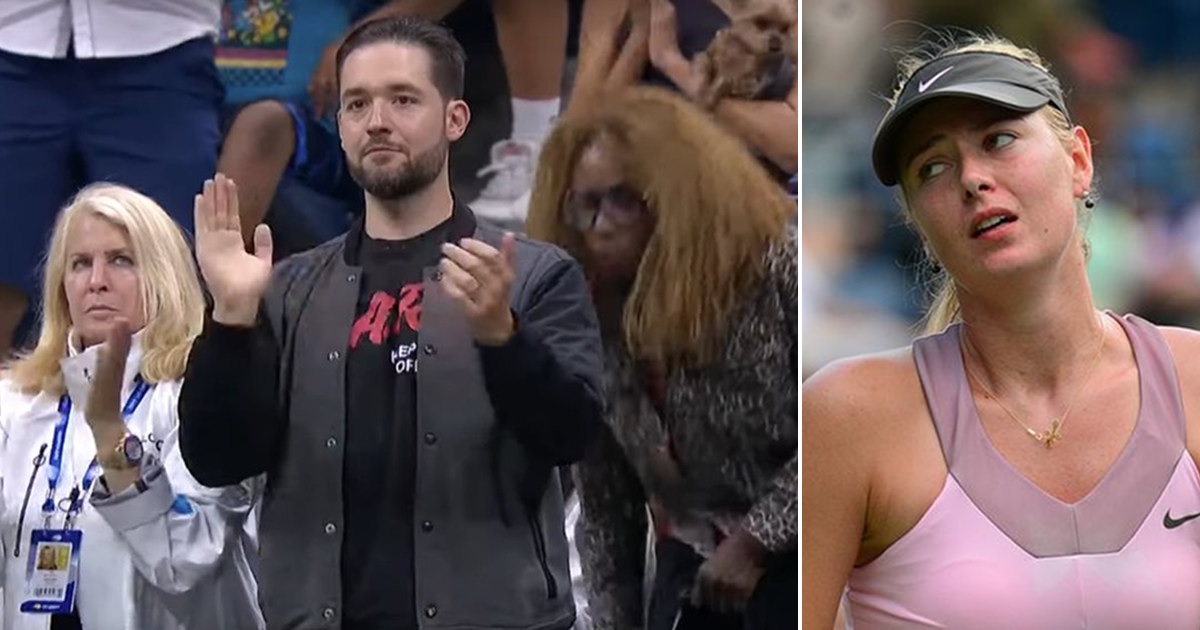 For those of you who may still be wondering how Serena Williams and Alexis Ohanian ended up together, last night was a clear example of why they're a perfect match. Let's just say Ohanian goes HARD for his wife.
While Serena was serving break points left and right during her hyped match against Maria Sharapova, Ohanian was serving epic shade from the sidelines.
The longstanding feud between Serena and Sharapova has been dubbed a "tennis rivalry" by the media—but there's really no competition on the court.
Last night (Aug. 26), Serena easily crushed Sharapova (6-1, 6-1) during their first-round U.S. Open match, her 19th consecutive win over her foe and 20th overall.
Ohanian cheered his wife on in her player's box throughout the match while wearing a buttoned jacket, all the while, secretly trolling Sharapova.
As soon as Serena claimed her victory, Ohanian unbuttoned his jacket and revealed a vintage D.A.R.E. (Drug Abuse Resistance Education) shirt.
the second drag of the serena-sharapova match happened off the court, with @alexisohanian in a d.a.r.e shirt. ? if you know, you know. #USOpen pic.twitter.com/CbnVXUtdeF

— get on the drums, ro (@oscar_pope) August 27, 2019
The Reddit co-founder was clearly trolling Sharapova with the shirt.
Back in 2016, the Russian player was banned from the sport for two years by the World Anti-Doping Agency after testing positive for the banned drug Meldonium.
During her two-year suspension, Sharapova wrote some shady things about Serena in her 2017 memoir, including suggesting that the reason she hadn't beaten the tennis legend since 2004 was because Serena was driven by her hate for Sharapova and determined never to lose to her again.
So needless to say, Twitter was not mad at Ohanian's shady and petty ways once his D.A.R.E. shirt was spotted.
@alexisohanian is a damn fool and a GOAT for wearing a D.A.R.E. shirt to the match tonight ? pic.twitter.com/Hib85MoVfa

— WTA Tea (@WTATea) August 27, 2019
I'd like to report a murder ? @alexisohanian #renasarmy #usopen pic.twitter.com/RLtUNxZZVu

— Auto Tinsley (@AgentTinsley) August 27, 2019
Alexis Ohanian showing up to the match between Serena & Maria Sharapova in a D.A.R.E t shirt is the type of solidarity in pettiness I need from my partner. pic.twitter.com/iH1oBW8djO

— farxiyo (@hausofriya) August 27, 2019
Alexis Ohanian's level of petty is just… *chef kiss* pic.twitter.com/l8aVtYjGG0

— M'Baku's Baby Mama (@JamelleMyBelle) August 27, 2019
And Serena displayed her own shade following the match as well, but towards another foe.
When asked about the U.S. Tennis Association's decision to keep the umpire she infamously clashed with at last year's U.S. Open from working any of her or Venus Williams' matches during the 2019 tournament, she gave Carlos Ramos the "I don't know her" treatment.
"Yeah, I don't know who that is," she said during her post-Sharapova march press conference.
Serena Williams asked last night about chair umpire Carlos Ramos not working her matches at this year's U.S. Open. (via USTA)

"Yeah, I don't know who that is." pic.twitter.com/kF9zQXGcOH

— Nick Zaccardi (@nzaccardi) August 27, 2019
Serena and Ohanian wed in 2017 and share one daughter, 23-month-old Alexis Ohanian Jr.
Hopefully, a couple that shades together, stays together.
I bet they laughed all night long about how they both dragged their "rival" on and off the court.
Be the first to receive breaking news alerts and more stories like this by subscribing to our mailing list.