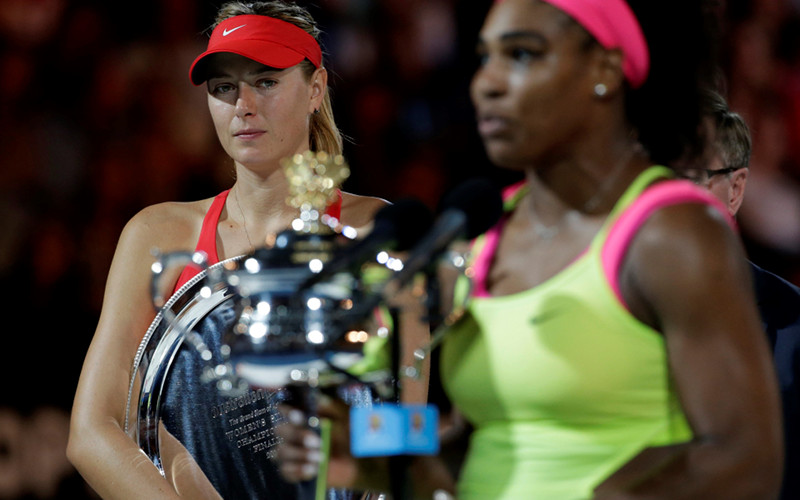 Maria Sharapova is struggling to bounce back after her 15-month suspension for abusing a banned substance. So, to remain relevant, she has written a book and discusses her failure to beat the legend Serena Williams more than twice during their one-sided 13-year rivalry.
The five-time Grand Slam winner has written a memoir Unstoppable: My Life So Far, which chronicles her time at the prestigious Nick Bollettieri Tennis Academy, her 2016 suspension and 2017 return, and of course, Serena Williams.
Though the book will be released in September, she provided People exclusive excerpts and reveals the ridiculous reason she believes there is so much animosity between she and Serena. According to Sharapova, Serena has vowed never to lose against her because she's skinny and once saw Serena cry.
Sharapova writes in part:
I think Serena hated me for being the skinny kid who beat her, against all odds, at Wimbledon. But mostly I think she hated me for hearing her cry. Not long after the tournament, I heard Serena told a friend – who then told me – "I will never lose to that little bitch again."
In the excerpt, Sharapova recounts first beating Serena at the 2004 Wimbledon final. Serena showed sportsmanship with a smile, a hug, and told the newbie "good job." But Sharapova believes it was this stunning upset that sparked their rivalry because she later saw Serena in the locker room "bawling."
"Guttural sobs. I got out as quickly as I could, but she knew I was there," she writes.
This repeated Maria and Serena ???. pic.twitter.com/W0qVONCEDL

— Foot Fault Tennis (@footfaulttennis) August 11, 2017
Sharapova's record against Serena is currently 2-19, last beating her in 2004.
Serena Williams is obviously the GOAT: there's really no debating this. It's time for Sharapova to just admit that Serena is simply the better player of the two. Even now, a pregnant Serena hasn't played a match since January and is still ranked No. 15 in the world. Meanwhile, Sharapova has yet to win a tournament since her April return and is ranked all the way down at No. 149 – yikes!
When Serena announced her pregnancy, there were even jokes on social media that her baby had won more Grand Slams (in 2017) than Sharapova as Serena was at least two months pregnant when she won the Australian Open in January, her 23rd Glam Slam title overall.
If you want to read more of Sharapova's lame excuses for her shortcomings, Unstoppable: My Life So Far hits shelves on September 12th.
Be the first to receive breaking news alerts and more stories like this by subscribing to our mailing list.