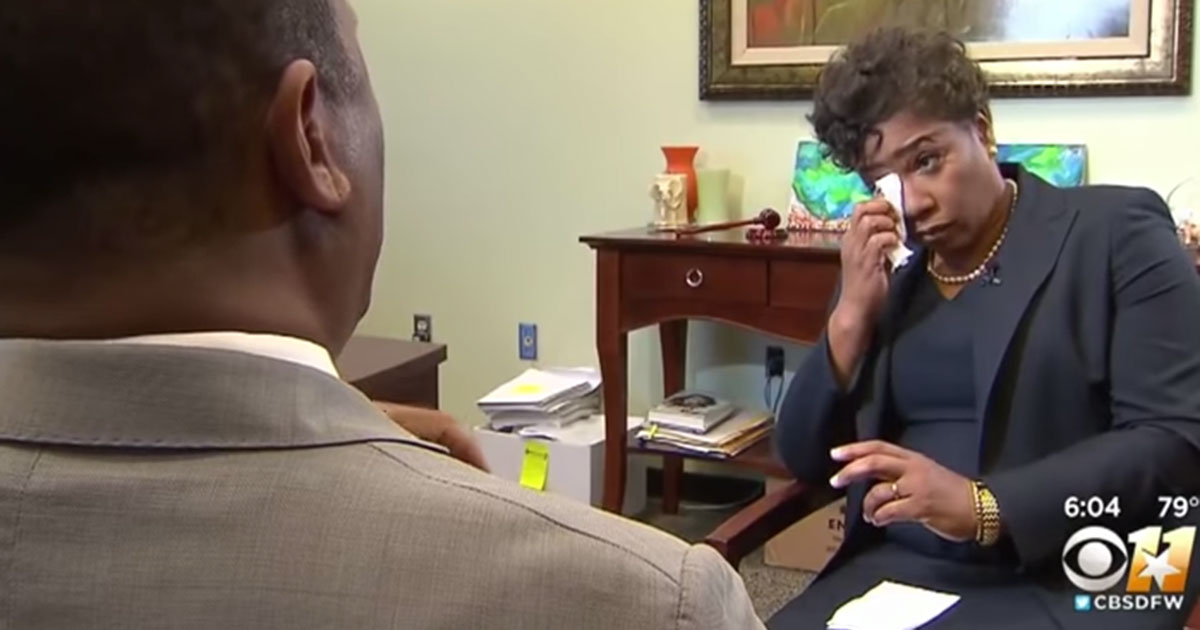 Judge Tammy Kemp is still out here trying to get sympathy after she came under fire for hugging former Dallas cop Amber Guyger and giving her a Bible after Guyger was convicted of murdering an unarmed black man last year as he was minding his own business inside his own home.
Judge Kemp, a Black woman, recently sat down with CNN as a part of her media rounds after sentencing Guyger, who is White, to 10 years in prison for shooting and killing Botham Jean back in September 2018.
Kemp said she hugged Jean's family and thought it would be "rude" if she didn't hug Guyger as well, especially considering the fact that Guyger practically begged her for one.
"I think people are taken aback that I would reach out to Amber Guyger because the act that she committed was so horrific, and the victim was such a good person," Kemp told CNN.
"But I try to look beyond the horrific act, and see the person behind it, realizing that that person would rejoin our society … It's my hope that she'll become a productive member of society."
Kemp recalled that she told Guyger: "'Ms. Guyger — Mr. Jean has forgiven you. Please forgive yourself, so you can have a purposeful life.' And she asked me, 'Do you think my life can still have a purpose?' And I said, 'I know it can.'"
Kemp claims Guyger then asked her: "Do you think God will forgive me?" to which Kemp says she replied yes, and according to the judge, Guyger told her she didn't have a Bible and didn't "know where to begin" in regards to seeking forgiveness from the big man upstairs.
"And that's when I went to retrieve my Bible and gave it to her," Kemp explained, adding that Guyger told her she'd return her Bible "in 10 years."
Kemp—who became visibly emotional during a separate interview, grabbing a tissue and wiping tears from her eyes at one point—also responded to the backlash she's received from social media and legal experts for being so compassionate towards a convicted murderer and essentially pulled her own version of the race card (but in reverse).
"Frankly, I don't think I would be getting this criticism if Miss Guyger were a Black woman," Kemp said. "I hate that we limit our compassion to one race."
GIRL, BYE!
Be the first to receive breaking news alerts and more stories like this by subscribing to our mailing list.