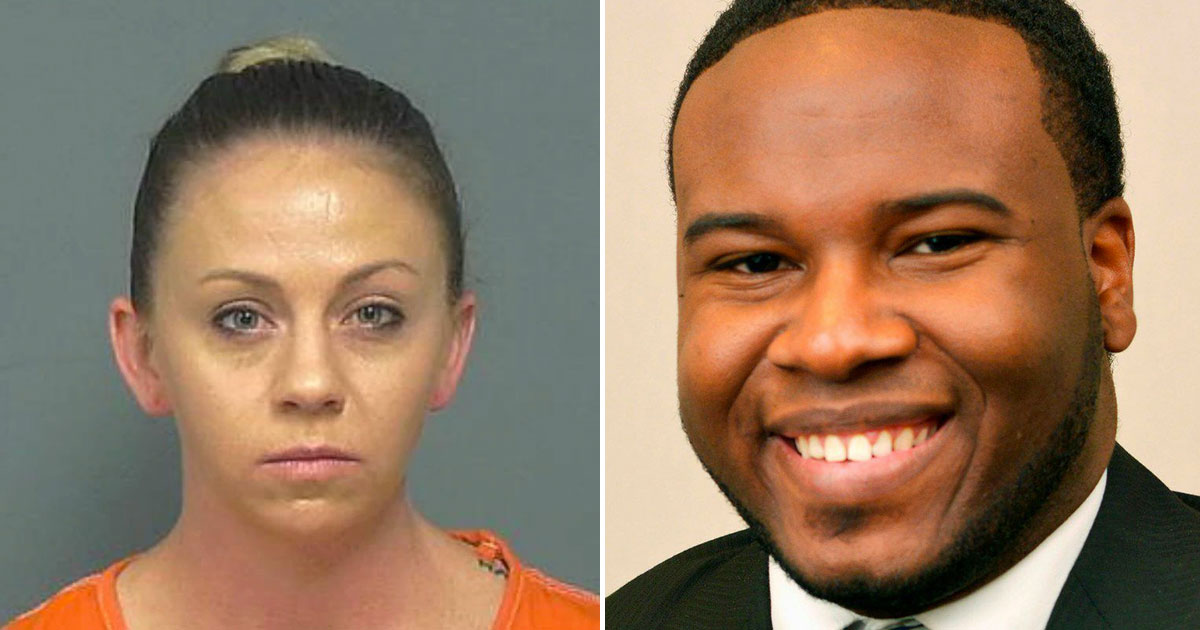 Amber Guyger, the White former Dallas police officer who shot and killed a Black man named Botham Jean in his own apartment has been found GUILTY of murder.
Guyger, 31, said she thought she was in her own apartment and mistook 26-year-old Jean as an intruder when she shot him on September 6th, 2018 … however, Jean was in his apartment, minding his own business at the time.
The guilty verdict comes after jurors began deliberations on Monday (Sep. 30) following a week-long trial. The decision reportedly took just hours.
The murder conviction carries a sentence of five years to life in prison.
Botham Jean would have celebrated his 28th birthday on Sunday (Sep. 29).
Loud cheers erupted in the courtroom after the judge read out the jury's guilty verdict.
Jean's mother threw up both arms in the air upon hearing the verdict, and another woman started to shout in praise, but was quickly chastised by the bailiff, CNN reported.
Multiple members of Jean's family cried happy tears and hugged prosecutors, while Guyger's mother broke down crying.
People in the hallway were heard clapping and cheering loudly amid shouts of "Guilty Guilty!" and "Black lives matter."
The basic facts of the unusual shooting weren't in dispute throughout the trial.
Guyger, a four-year veteran with the Dallas Police Department, was off duty but still in uniform when she she walked up to Jean's apartment—which was on the fourth floor, directly above hers on the third—and found the door unlocked.
Guyger told investigators she had worked a 13.5 hour shift and accidentally parked on the fourth floor of the apartment building's garage, rather than the third floor where she lived, leading her to believe that Jean's apartment was her own.
Jean—who grew up in the Caribbean island nation of St. Lucia and came to the U.S. for college and to start his career as an accountant—was watching TV and eating a bowl of ice cream on the couch prior to Guyger entering his apartment, and was understandably startled when a complete stranger walked into his home with a gun pointed at him.
His shooting drew widespread national attention due to the strange circumstances and because it was amid a string of shootings of unarmed black men by white police officers.
Guyger was arrested three days after the fatal shooting, and was later fired and charged with murder after initially being charged with manslaughter.
Her first time speaking publicly about the killing was when she took the witness stand last Friday (Sep. 27).
While on the stand, Guyger tearfully apologized for shooting and killing Jean and said she "never wanted to take an innocent person's life." She added: "I'm so sorry. This is not about hate — it's about being scared."
She said she feared for her life upon finding the door to what she believed was her apartment unlocked.
In a frantic 911 call that was repeatedly played throughout the trial, Guyger could be heard telling the operator "I thought it was my apartment" over and over.
While her attorneys argued that the units in the apartment complex were identical and frequently led to tenants going to the wrong apartments, prosecutors questioned how Guyger could've missed the numerous signs that she was in the wrong place, suggesting that she was distracted because she was sexting her police partner.
Prosecutors also asked why Guyger didn't radio in for help when she thought an intruder was in her home. They also pointed out that since Guyger was still in full uniform, she had a number of non-lethal items attached to her service belt that she could have used, including a stun gun and pepper spray.
Guyger, however, said that going through the door with her pistol drawn "was the only option that went through my head."
Be the first to receive breaking news alerts and more stories like this by subscribing to our mailing list.