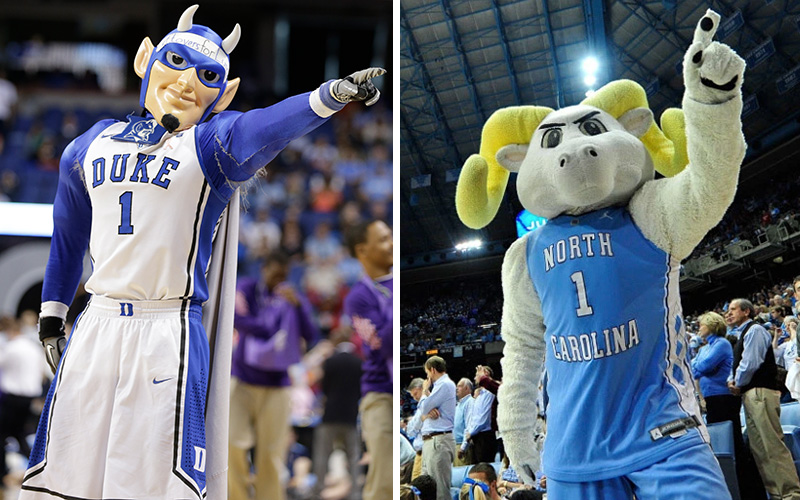 Tonight marks the 250th match-up in the historic Tobacco Road Rivalry between the University of North Carolina at Chapel Hill Tarheels and the Duke University Blue Devils.
Cited as one of the best rivalries in all of sports, the game between these two college basketball powerhouses is always entertaining. And it's easy to understand why.
Not only are they two of the most historic teams in all of college basketball (having won 11 national championships between them), but the proximity of the two teams just adds fuel to the fire.
The two schools are only ten miles apart traveling along Tobacco Road (U.S. Highway 15-501), but the fact that Duke is a private school and UNC is public is just another caveat to why the respectful hatred between these two exists.
So with tonight's matchup set to continue the rivalry at 9:00 p.m. EST in Charlotte, N.C. how do the two teams stack up?
North Carolina (27-5 overall, 16-2 in conference) is currently sitting at number 3 in the national Associated Press rankings and number one in the ACC.
Duke (27-5 overall, 14-4 in conference) on the other hand, is the #3 team in the country and number three in the ACC.
But as this rivalry has proved time and time again, when these two teams meet on the court, all of that gets thrown out the window. Anything is possible when they play, and tonight should be no different.
The teams have met a total of 249 times in their storied past, with UNC leading 138 to Duke's 111.
Lately, though, UNC has the lead with 6 wins over Duke's 4 in the last 10 matches, and NC won the most recently with a 79-70 win at Dean Smith Center in Chapel Hill on March 9th, 2019.
In terms of ACC play, Duke holds the slight edge, winning a record 20 total ACC championships to Carolina's 18. North Carolina has more national championship titles though, with 6 compared to Duke's 5.
Any sports fan worth their salt is likely excitedly awaiting tonight's tip-off and continuation of this great rivalry, and rest assured, either Durham or Chapel Hill is going to be a fun place to be tonight.
Be the first to receive breaking news alerts and more stories like this by subscribing to our mailing list.