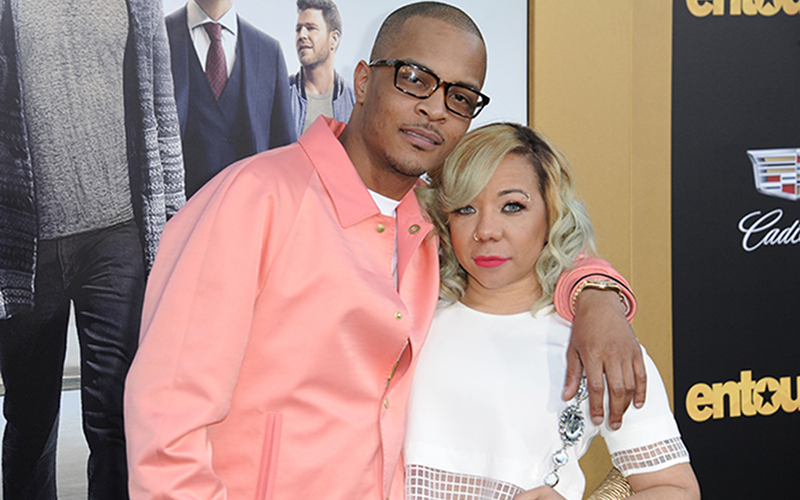 There may be hope for Tiny & T.I. after all. Just days after news broke Tiny had filed for divorce from her husband of six years, new reports suggest T.I. is fighting for his marriage and wants Tiny back.
According to TMZ, T.I. believes Tiny has "overreacted" to their current rough patch because of "jealous friends." Tiny filed legal documents petitioning for a divorce on December 7th and has given herself a few weeks to cool off. The entertainment site reports T.I. is now trying to talk some "sense" into her.
Though the hip-hop couple is currently not together, sources say they are still friendly and talking to each other. In fact, a source tells TMZ "things got romantic" between the two recently. However, trust continues to remain a main issue on both sides.
We recently got to see a glimpse of their friendly relationship. The two spent Christmas together and Tiny shared an adorable video of T.I. teasing their 9-month-old daughter driving and wrecking a new toy car.
Tiny's divorce documents were recently obtained. At the time of filing, she stated the couple's relationship was "irretrievably broken with no hope of reconciliation." She's also seeking custody of their children and half of all assets acquired during the marriage.
A source exclusively told Hollywood Life exactly why Tiny wanted out of her marriage:
"Tiny is no Mother Theresa, but she dealt with T.I.'s crap for way too long. She stayed longer because of the five kids, but T.I. took her for granted and just thought she would always be there and she didn't want to be stuck in that rut forever. She wanted to be loved and not be seen as an afterthought and she is now doing something about it. It's a wake-up call for all of them."
T.I and Tiny have been in a relationship since 2001 and married in 2010. They have three children together. Neither have spoken publicly about their impending divorce. If all goes well, there may be nothing to tell.
Be the first to receive breaking news alerts and more stories like this by subscribing to our mailing list.