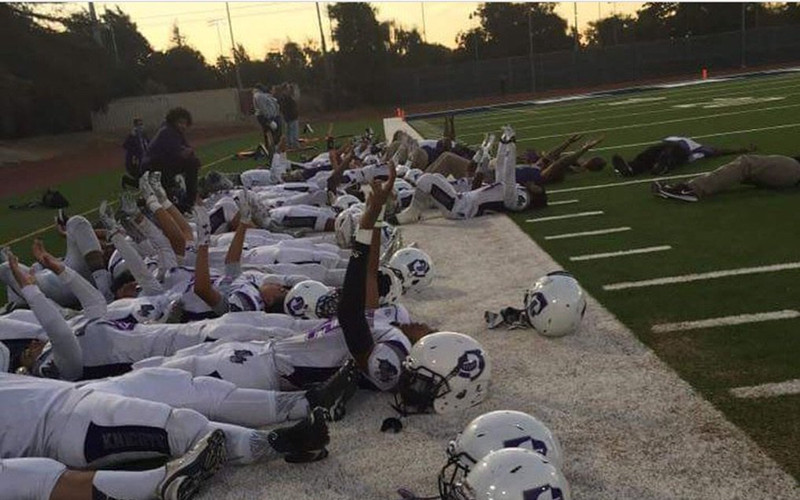 While many continue to be outraged over Colin Kaepernick's National Anthem protests, his impact and influence grows. High school football students took Kaepernick's protest a step by further.
With Kaepernick kneeling beside them, several students of Castlemont High School in Oakland opted to lay on the ground with their hands in the air rather than follow the hand-over-heart tradition. The students were following Kaepernick's lead in protesting against unarmed black people being shot and/or killed by police officers and oppression of people of color within the country.
The moving image was shared by former NFL Kirk Morrison and went viral.
Kaepernick came to Oakland, CA. He kneeled on one knee, players laid on their back with hands up during the Anthem. pic.twitter.com/Cae4sTopac

— Kirk Morrison (@kirkmorrison) September 24, 2016
Kaepernick caused controversy and many so-called "patriotic" white tears, by noticeably sitting down during the National Anthem. He has since modified his protest to kneeling.
"I am not going to stand up to show pride in a flag for a country that oppresses black people and people of color. To me, this is bigger than football and it would be selfish on my part to look the other way. There are bodies in the street and people getting paid leave and getting away with murder."
Along with other professional and college athletes, Castlemont had previously joined in the protest. Kaepernick came to support Castlemont and gave the team a motivational speech.
"I had to come support ya'll because the same way ya'll took a stand and stood with me, I had to come out here and stand with ya'll."
Regardless of how you feel about Kaepernick's protest, a necessary conversation is being had across our country. (Hopefully people will actually listen). However, it's incredibly moving and encouraging to know that even high school students are not only "woke," but also willing to take action and make a statement.
Be the first to receive breaking news alerts and more stories like this by subscribing to our mailing list.