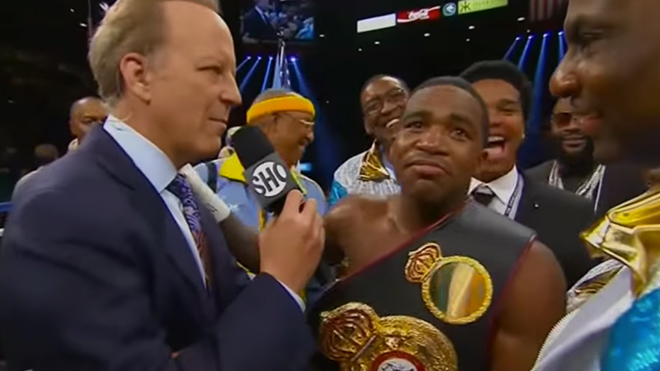 Adrien Broner is a f**king idiot!
It's bad enough that he has unprotected sex with strippers and an ego way too big for someone who just got knocked out a few months ago, but this guy … is a F**KING IDIOT!
Fortunately for him though, he won his fight against Carlos Molina over the weekend, but his comments during the post-fight interview has landed the "too cocky for TV" boxer in hot water.
Asked by Showtime's Jim Gray what he learned after losing his "undefeated" title to Maidana last December, Broner, with a smirk on his face, said:
"At the end of the day, I'm still Adrien 'The Problem' Broner. The 'can man.' Anybody CAN get it. AfriCANS. I just beat the f**k out of a MexiCAN!"
The crowd immediately showered Broner with boo's and Jim Gray even reprimanded him for his choice of words.
Since making the comment, Broner has given a half-ass apology and claims he loves all Mexicans.
"I love all Mexicans. Molina put up a hard fight."
Whatever you say Adrien; you might just wanna keep you're mouth shut from now on!
Be the first to receive breaking news alerts and more stories like this by subscribing to our mailing list.