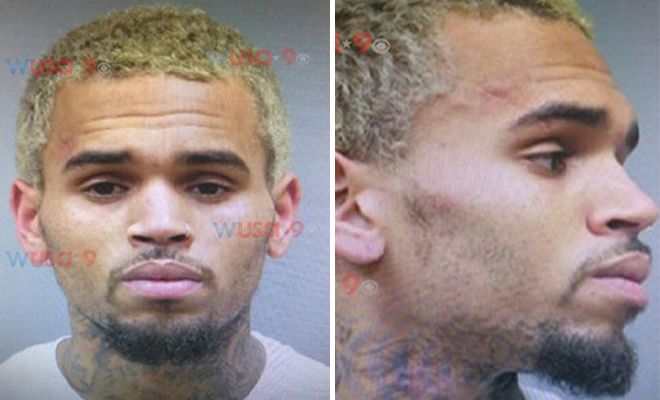 Though Chris Brown has been arrested on several different occasions for a number of different offenses, the singer has had the rare luxury of never having a single one of his mugshots hit the Internet … UNTIL NOW!
While Brown prepares to face a judge for his in Washington, D.C. latest offense — violating his probation — his mugshots were released last Thursday (Apr 17) by CBS affiliate WUSA9.
The photos show the "Loyal" singer wearing a generally disinterested expression and looking pretty rough. His hair looks rough, his beard looks rough and there appears to be a couple of bruises on his face (one sits above his right brow, and the other is on his right cheek).
Chris and his bodyguard Christopher Hollosy were arrested last October for allegedly punching a man in the face outside a D.C. hotel. Hollosy told police he punched the man after he tried to get on Brown's tour bus.
Chris Brown's assault trial was scheduled to begin on Monday (Apr 21), but it was postponed while lawyers tried to work out if his bodyguard, who was convicted of assault Monday, will testify.
The trial was rescheduled for today, but the singer's attorneys got the judge to postpone the case until June 25th, and before then, he will return to Los Angeles to face a California judge.
Brown's attorney Mark Geragos said it will take U.S. Marshals about a week or so to return the singer to California.
Be the first to receive breaking news alerts and more stories like this by subscribing to our mailing list.