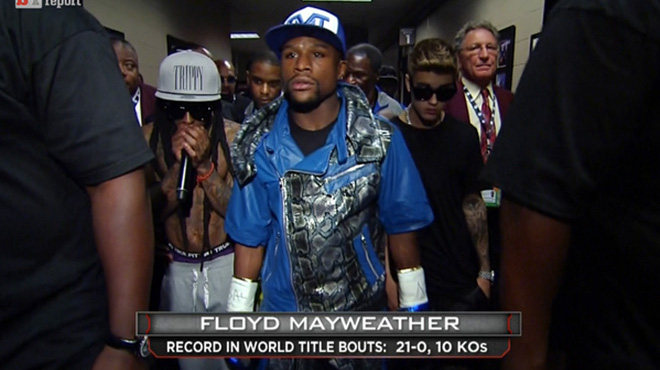 Before Floyd Mayweather Jr. defeated Saul "Canelo" Alvarez in a majority decision vote Saturday night (Sep 14), the undefeated boxing legend was escorted to the ring by none other than Pop superstar Justin Bieber and rap phenom Lil Wayne.
Flanked by Weezy and the Biebs, "Money" Mayweather entered the ring to face Canelo Alvarez in a way that only he can, as Wayne rapped a live, off-beat version of his hit song "A Milli" while Justin Bieber just played along, walking beside Floyd and Wayne trying to look cool.
If this combination of celebs looks weird to you it shouldn't, because Justin Bieber, Floyd Mayweather and Lil Wayne all go way back.
When Floyd fought Miguel Cotto in May 2012, the JB walked Mayweather to the ring, and even got to hold his championship belt after his victory via unanimous decision. And in May 2013, Tunechie walked Mayweather to the ring before his fight with Robert Guerrero.
Here's a photo of Bieber hanging out with Floyd before the fight:
PIC: @FloydMayweather & @justinbieber in the locker room. #TheOne #TMT @MayweatherPromo @GoldenBoyBoxing pic.twitter.com/11gFFuxCOD

— SHOWTIME SPORTS (@SHOsports) September 15, 2013
And here's Lil Wayne watching the fight from his ringside seat with no shirt on:
Lil Wayne just chillin in the crowd with no shirt on. #TheOne pic.twitter.com/UbVhLM6ABI

— Bleacher Report (@BleacherReport) September 15, 2013
WATCH THE VIDEO OF FLOYD MAYWEATHER MAKING HIS WAY TO THE RING AHEAD OF THE CANELO ALVAREZ FIGHT ALONGSIDE LIL WAYNE & JUSTIN BIEBER UP TOP AND CHECK OUT THE POST-FIGHT INTERVIEW BELOW:

[H/T: FTW, Bleacher Report]