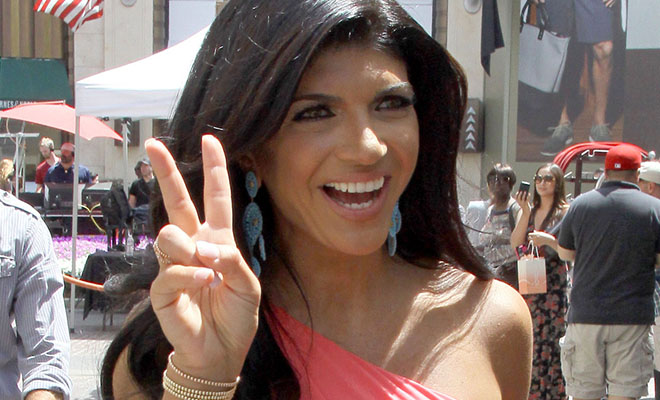 Given there are numerous reality stars walking the globe in a huge state of delusion, I'm not entirely surprised that The Real Housewives of New Jersey's Teresa Giudice doesn't understand the severity of the massive charges of fraud leveled against her and her husband Joe Giudice.
After all, this is the same person that went on a grand shopping spree after filing for bankruptcy, owing some $11 million in debt.
However, someone might want to shake her table and tell her that when it comes to the federal government, they will lock your ass up with no worries. That means no more time with your four kids, no more camera crews, no more expanding cookbook-based empire, etc.
Apparently, in Teresa's mind, Juicy Joe will just take the charges, do the jail time and she will go about her way. You know, with a spin-off show that's long been rumored to be in the works.
Thing is, though, her name is attached to all those docs at the center of the charges. She can play dumb if she wants to, but the federal government may be too smart to fall for it.
Despite the reality that she could lose it all, "Teresa doesn't give a f**k," a source close to her told RadarOnline.com in an exclusive interview. "She knew the indictment was coming down. She knew it before the show even started, she just didn't know when it would happen."

As RadarOnline.com exclusively reported, 41-year-old Teresa even attended an event in New York on Thursday night, just two days after appearing in court and having to plonk down a $500,000 bond. She brushed off the drama, telling a photographer: "You can't stop living!" As for the legal woes, the source said Teresa isn't in panic mode — at all.

"Look at her, she was sitting on the beach after the news broke," the insider said about her "laissez-faire" attitude. "She has watched how Joe's fraud case and been pushed back for months and months and she is telling people that she believes that is going to happen with this case too. "Teresa doesn't think she's going to go to jail. Joe is going to take the fall for everything and Teresa knows it."

The source said Teresa and Joe are counting on the legal system's slow process being in their favor.

Noted the source: "They know this is going to get dragged out for a really long time and they're happy about that."