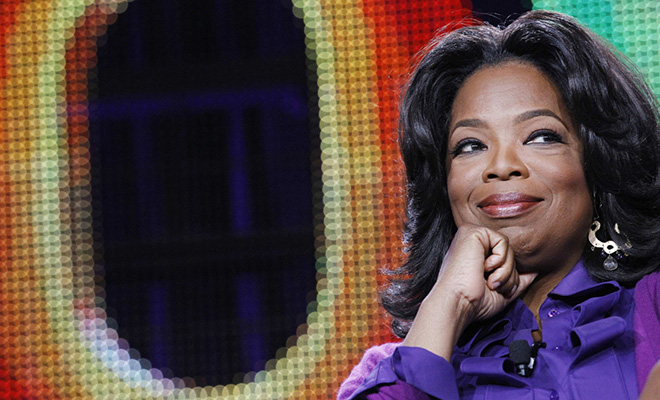 Oprah Winfrey is used to people in the mainstream media rooting for her failure. After all, even though she was the top rated and earner in daytime, whenever she dropped even three viewers in the ratings, the headlines would read, "SHE'S OVER, THAT OPRAH!" or some similar in sentiment header.
Needless to say, those familiar with Oprah's rise and the backlash it spawned weren't surprised that people claimed her latest venture — the OWN cable network — was doomed mere months after its launch. You know, despite the fact that it took FOX several years to build itself. Or that the CW is still in danger of going kaput after all these years.
However, regardless of how many of us may feel about Oprah's obvious pandering to Black audiences to secure ratings, it is working. Not only is OWN turning a profit, it's doing so six months ahead of schedule.
The New York Times reports:
In the second quarter, OWN was cash-flow positive for the first time, said David M. Zaslav, Discovery's chief executive. He credited investments in programming, including two new shows from Tyler Perry, and increases in subscriber fees from cable and satellite providers.

OWN, which is a joint venture between Ms. Winfrey and Discovery, is now "starting to pay down the investment Discovery has made in the venture," Mr. Zaslav said.

When the channel was announced in mid-2008, Discovery said it would provide the cable shelf space for Ms. Winfrey (by converting the Discovery Health Channel into OWN) and $300 million in loans.

Amid the hoopla that accompanied its debut on the first day of 2011, Discovery briefly predicted that the channel would make a profit in its first year. But the ratings soon sagged, resulting in lower-than-expected advertising revenue and no small amount of soul-searching by Ms. Winfrey and Mr. Zaslav. Discovery repeatedly chipped in more money; its loans now total $510 million.

Throughout 2012, industry analysts described OWN as a flop or an outright failure. Some predicted that Discovery would have to write off some of its investment.
To quote my beloved Beyonce, "Don't forget it, don't forget it. Respect that. Bow down, bitches."
Be the first to receive breaking news alerts and more stories like this by subscribing to our mailing list.