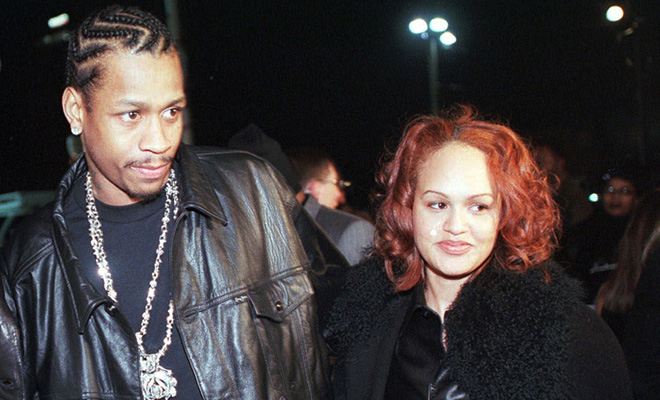 In 'why did you have to mess up your life so badly when you had it all, Negro' news, Allen Iverson's ex-wife Tawanna Iverson has filed legal documents accusing the former NBA All-Star of kidnapping their children.
Tawanna says that A.I. asked for permission to take their five children on a vacation to Charlotte, NC  in May. However, when the kids were due back on May 26, they were never dropped back off. Tawanna says she then tried to set up an exchange on June 4th at Target, but A.I. never showed up with their kids, who range in age from three to 16-years-old.
Tawanna says she now believes Allen never took the kids to Charlotte and is keeping them at a Sheraton hotel in Georgia.
Maybe he has the hook-up there? Either way, at least it's not one of those Extended Day hotels. Still, Tawanna is worried. One, because she has sole legal and primary physical custody of the kids. Then, there's her concerns about Allen being an alcoholic who drinks around the children.
This sounds like a straight-to-DVD film and/0r Lifetime movie.
Tawanna wants her kids returned and Allen thrown in jail, and as TMZ notes, this wouldn't be the first time Mrs. A.I. has tried to have him locked up. Earlier this month, she requested that a judge throw him in the slammer on claims that he owes her more than $40,000 in back child support. Allen, of course, is denying all the charges.
Their poor kids.
Be the first to receive breaking news alerts and more stories like this by subscribing to our mailing list.