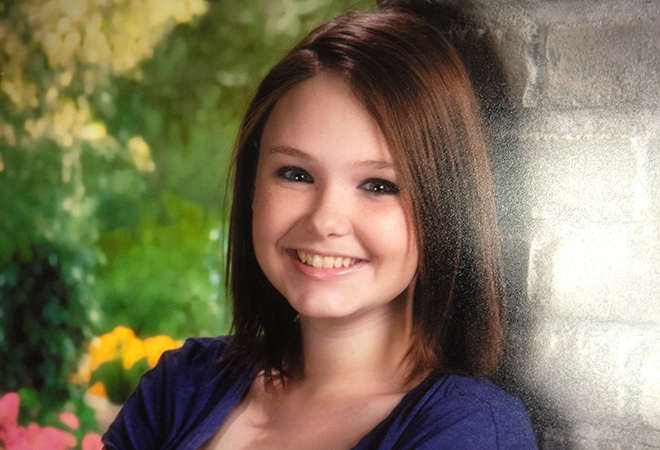 The senseless 2012 murder of a 16-year-old girl at the hands of her two close friends happened reportedly because her killers no longer wanted to be friends with her.
Last July, Skylar Neese was stabbed to death and left on the side of the road by Rachel Shoaf, 16, and an unidentified minor.
In an interview with CNN, the victim's father, Dave Neese was asked if he had anything to say his daughters' killers. Rather than stay quiet or make up some bullshit about "forgiveness," he had this to say:
"Rot in hell … I want them to go through the pain and agony my daughter went through. I want them to have no life because Skylar doesn't have one."
The shocking incident, which occurred in Star City, West Virginia, was initially treated as a missing persons case.
Surveillance footage showed Neese sneaking out of her bedroom window and getting into a car with friends. The friends initially claimed that they drove around town and dropped her off near her home.
For six months, police searched for the teen and despite the intense press coverage, they turned up very few leads.
Eventually, Shoaf cracked, confessing to police what had happened. Shoaf admitted that she and another classmate drove Neese to a spot in rural Pennsylvania where they stabbed her and left her lifeless body on the side of the road.
The victim's father described the group of friends as "inseparable."
Perhaps the most unsettling part is that the unnamed murderer actually called the victim's father repeatedly while she was missing in order to find out what police knew.
It initially appeared as though the girl was a concerned friend who was eager to know if authorities were any closer to catching her killer. Now it's clear that she just wanted to make sure no one was close to finding out what she did.
So why on earth did these two girls savagely murder their friend?
According to Neese's father, they "didn't want to be friends with her anymore."
Let's hope these evil little girls are facing a very, very, VERY long prison sentence.
WATCH THE CNN VIDEO REPORT HERE:
Be the first to receive breaking news alerts and more stories like this by subscribing to our mailing list.