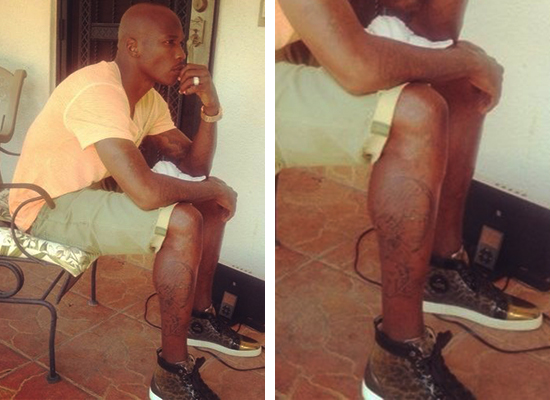 What do you do when your wife of just two months wants a divorce after you headbutted her following an argument about condoms?
You get a huge tattoo of her face on the side of your leg!
Or at least that's what you do when you're Chad "Ochocinco" Johnson.
The NFL free agent posted a photo of himself on Twitter this week showing off a brand new tattoo, which he reportedly got over the weekend.
It's Evelyn Lozada's face, in case you can't tell. And it also has "Eve" scribbled under it.
A bold move for the troubled athlete. Stupid, of course … but bold, none-the-less.
Too bad Evelyn doesn't want Ocho back no matter how many tattoos of her face he decides to get on his body to prove that he loves her.
Sources close to the "Basketball Wives" star tell TMZ that she plans on going through with her divorce from Johnson, and she's made it clear to her friends that she will NOT be getting back together with him.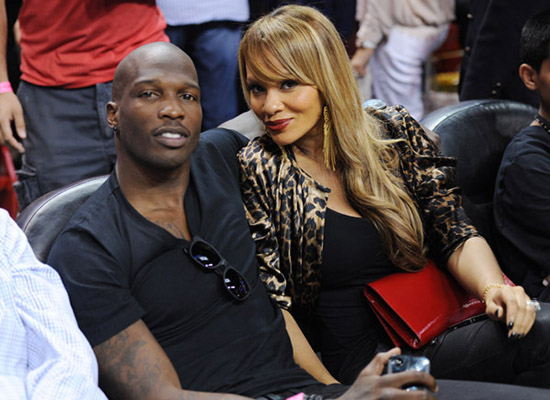 When fans questioned him about his new inkwork, Chad — who is clearly in denial — tweeted:

Divorce? Child please… that's my WIFE RT @teesplash101: I really want to know why @ochocinco tatted Evelyn's face on his leg post divorce

— Chad Johnson (@ochocinco) September 5, 2012
Chad was
arrested last month
after he allegedly headbutted Evelyn during a heated argument over a receipt for a box of condoms she had found.
He faces domestic violence and assault charges for the incident, which not only cost him his spot on the Miami Dolphins and a few lucrative endorsement deals, but also his marriage, as Evelyn filed for divorce three days later.
Their marriage lasted just 41 days.
Be the first to receive breaking news alerts and more stories like this by subscribing to our mailing list.