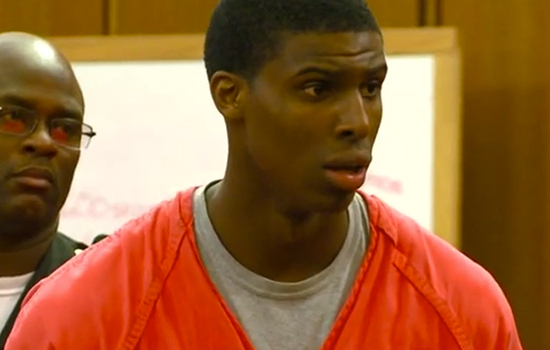 Video footage showing a highly sought after high school basketball prospect from Ohio collapsing in court after he was sentenced to 3 years in prison for assaulting and kidnapping his girlfriend is making its rounds on the Internet this week.
Cameras in the courtroom captured the shock on 18-year-old Tony Farmer's face as Judge Pamela Barker read the details of his jail sentence aloud.
"I got three years?" the clearly stunned (and somewhat confused) basketball star was heard asking his lawyer aloud, as Barker continued with sentencing, slapping Farmer with two years for felonious assault and two years for robbery.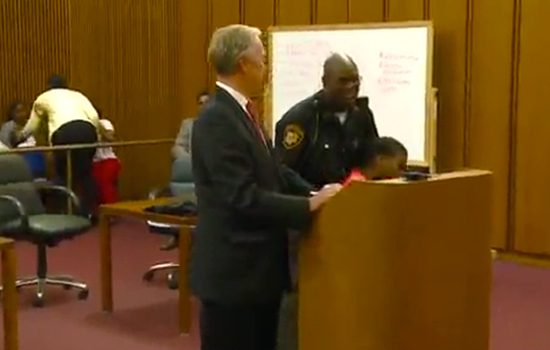 At that point, Farmer, under the impression that he was headed to prison for the next seven years, collapsed to the floor in true "Oh My Lawd Jesus!" fashion. (Watch below)
His family friends, who assumed he would only get a slap on the wrist, sobbed and cried aloud before running out of the courtroom.
"I haven't finished yet," Barker sternly said from the bench, as a court officer struggled to bring Farmer to his feet.
"Tony, come on Tony," Farmer's lawyer, Joe Dubyak said. "It's not as bad as you think it is."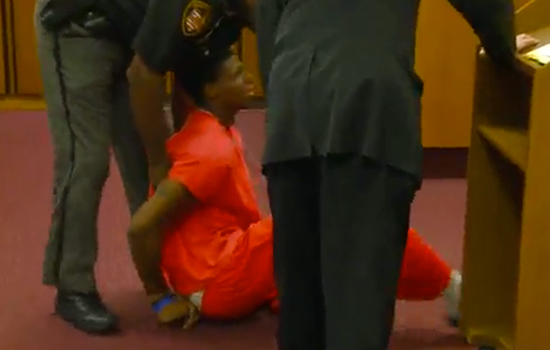 After Farmer got back up, Judge Barker explained to him that his terms would be served concurrently, and that he would only spend three years behind bars.
Farmer, a rising high school senior, was indicted back in May stemming from a fight with his now ex-girlfriend Andrea Lane at her apartment building in April 2011.
Prosecutors said video cameras in the lobby and parking lot captured Farmer as he assaulted Lane, dragged her by her hair, and then took her cell phone, bank card, laptop computer and car keys. (See below)
Farmer was also charged with intimidation for sending Lane threatening text messages and voicemails.
Believe it or not, prior to his sentencing, Farmer's ex-girlfriend provided an impact statement on his behalf, asking the judge to not send him to prison.
"I don't know what type of help he needs. I don't know what was wrong with him that day. I know he was a good person. I hope he still is. I hope he learns from this," Lane said.
Farmer's basketball coach also spoke for him, telling the court, "I'm here to say with my heart, that this young man, if you give him an opportunity, in five years from now, he's gonna make you proud. I know it. I know him."
But after reviewing the tape of the assault, the judge decided that some time behind bars was what Farmer deserved.
Judge Barker said of the video:
"Lane is literally cowering in a corner and she is trying to push him away from her. And ultimately, then, he, hits her in the head several times as she is cowered in that corner. That's what the court witnessed on those videotapes, and that does not incorporate, as far as I understand, is all that took place because this was within the confines of the apartment complex."
In addition to the prison sentence, Farmer also got probation, and the judge said that he can apply for early release after serving 180 days. But regardless, with those criminal convictions on his record, it is very likely that his basketball career is now over.
As Farmer heads to prison, the judge says that he only has himself to blame for the dark cloud that now hangs over his once bright future. "The opportunities that were lost, I would just say that he lost them," said Barker.
Tony Farmer, standing at a height of 6-foot-7 and weighing 220 pounds, was one of the most highly recruited high school basketball players in the entire state of Ohio.
The Associated Press named him Second Team All-Ohio for the 2011-12 season, and he was widely considered one of the top 100 basketball players for the class of 2013.
Farmer was also reportedly being recruited by several major college programs, including Michigan State, Illinois and Xavier.
Be the first to receive breaking news alerts and more stories like this by subscribing to our mailing list.