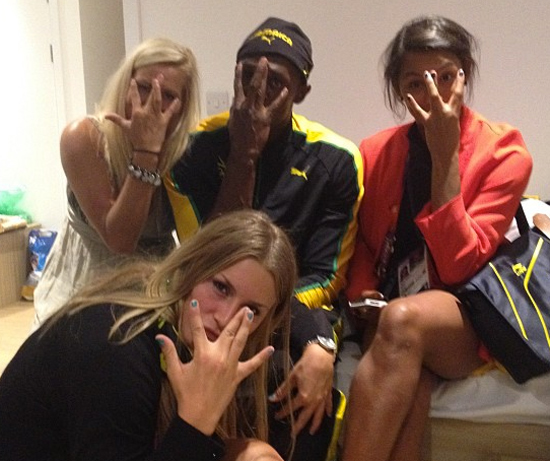 Et tu, Usain?
Usain Bolt — the fastest man in the world — made history when he took home the gold in the 100m on Sunday night, putting him on the same pedestal as Carl Lewis, since he won gold in the same event in 2008 at the Summer Games in Beijing.
So you'd expect him to unwind a bit, and given all the sordid details about what happens in the Olympic Village stays in the Olympic Village, it's not a surprise that a few ladies of the night would come knocking.
But dang, Usain. Did you have to go straight for the snow bunnies?
Usain tweeted out this picture of himself with three members of Sweden's handball team.
But while you might be inclined to believe that this was nothing but innocent fun, The Star columnist Rosie DiManno said that the three girls spent an hour and half in Usain's room with him.
Hello. We think the handball team was busy pulling a few handjobs that night … if you know what we mean. Here are the scandalous details from DiManno's report:
The ladies were all hot to trot, it seems, eager to show the love for this decidedly un-attached champion. A Swedish newspaper reported yesterday that the, uh, fans, had asked Bolt's coach for accreditation so they could properly congratulate the sprinter, and then spent an hour-and-a-half in his bedroom. That would be 30 minutes of congratulating per Scandinavian, you could say.
After scoring with three Swedish chicks at the same damn time … we can see Usain doing his famous victory pose.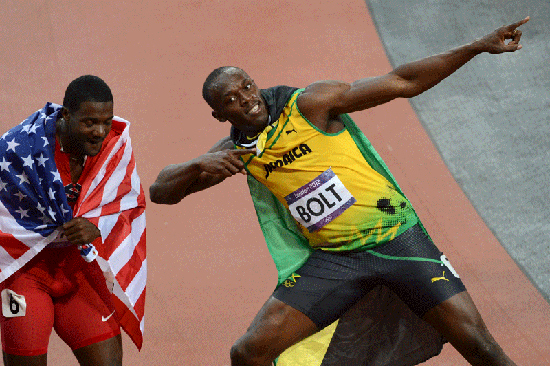 "Superman dat ho, now watch me yuleeeeee!"
But can Mr. Bolt show a few sistas some love next time?
Be the first to receive breaking news alerts and more stories like this by subscribing to our mailing list.