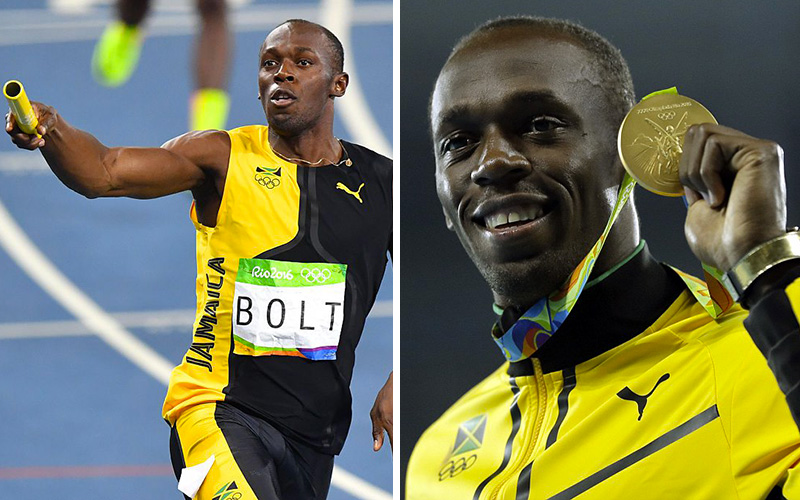 "There you go. I'm the greatest."
Those were the words Jamaican sprinter Usain Bolt said after he finished the 4x100m relay Friday night (Aug. 19), earning him his 3rd gold medal this year and 9th in his career. It's hard to deny the claim by the world's fastest man when you look at the facts.
With his clean sweep in Rio — he won gold in the 100m, 200m, and 4x100m — Bolt became the only human to ever win all three sprint events at three Olympic games. His victories also put him into another rare group, making him one of only three athletes to ever earn 9 gold medals along with American Carl Lewis and Finnish Paavo Nurmi. Only one person in the world has more than those three — Michael Phelps.
And while the results are impressive in their own right, the manner in which Bolt manages to win is incredible. Whenever he is on the track, it seems like he's running in another gear, leaving all of the other athletes to compete for second. We've all seen the viral photo of one of his earlier races.
That wasn't an anomaly, either. In tonight's relay, Bolt received the baton at right about the same time as his competitors, but in a mere 100m, he managed to distance himself from the pack and win the gold for Jamaica easily.
When asked how he would celebrate his historic performance in Rio, Bolt replied, "I'm to stay up late and have fun. I never knew this would happen when I started out." He's certainly earned the right to have a little fun (just hopefully not as much fun as Ryan Lochte) after dominating in what he says will be his last Olympic games.
Bolt turns 30 this Sunday and would be 33 when the 2020 games kick off in Rio. He's been adamant that he will not participate, citing next year's World Championships as his last competition. His teammate, Yohan Blake, is hoping that's not true, though. "Usain needs to be immortal and he is immortal," Blake said. "I will encourage him to come back for 2020."
With how well he's been performing, it looks like he's more than capable. So who knows, maybe we'll see Bolt in 4 years making a run at becoming the outright second most medaled athlete in history.
Be the first to receive breaking news alerts and more stories like this by subscribing to our mailing list.