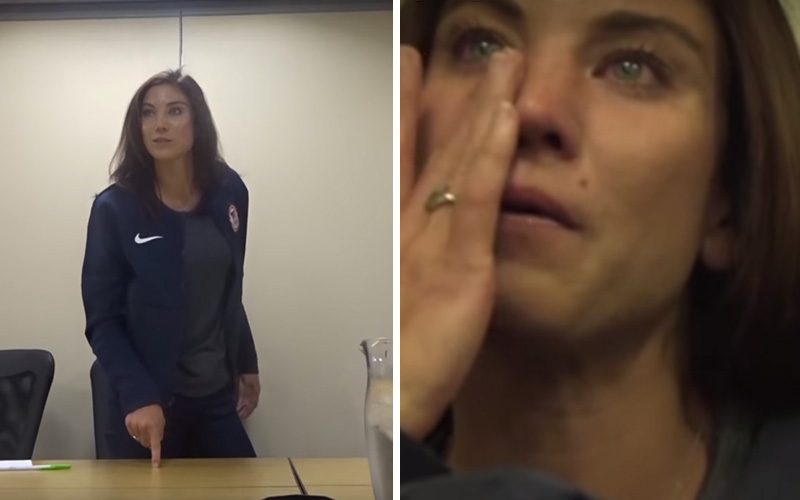 During the Olympics, USA Women Soccer's goal keeper Hope Solo made headlines when she criticized the Swedish team following a loss. Solo, it turns out, did not appreciate the Swedes reserved tactics in a match that resulted in the US being knocked out of the games, referring to them as "a bunch of cowards."
That was apparently enough for Solo to be receive a 6-month suspension and have her contract terminated with the US women's soccer team. A video surfaced today of the moment Solo discovered her fate.
U.S. Soccer President Sunil Gulati said, "The comments made by Hope Solo after the match against Sweden during the 2016 Olympics were unacceptable and do not meet the standard of conduct we require from our National Team players."
I get that a player should not go out and insult another country's team or players, but to kick Hope Solo off of the team, after she has dedicated the last 17 years to them, for calling her opponents cowards seems a bit harsh.
There was no vulgarity. There was no violence. There was no vandalizing a bathroom and fabricating a story. It was just one player who was upset following a major loss and said something she probably shouldn't have.
But the reaction by US Soccer comes across as overreacting in my opinion. Now, perhaps some of Solo's past actions played a part (this isn't the first time she's gotten in trouble), but if that's the case they should have made it clear.
Regardless of their reasoning, it's clear from the video that Solo ain't too pleased with their ruling.
Be the first to receive breaking news alerts and more stories like this by subscribing to our mailing list.