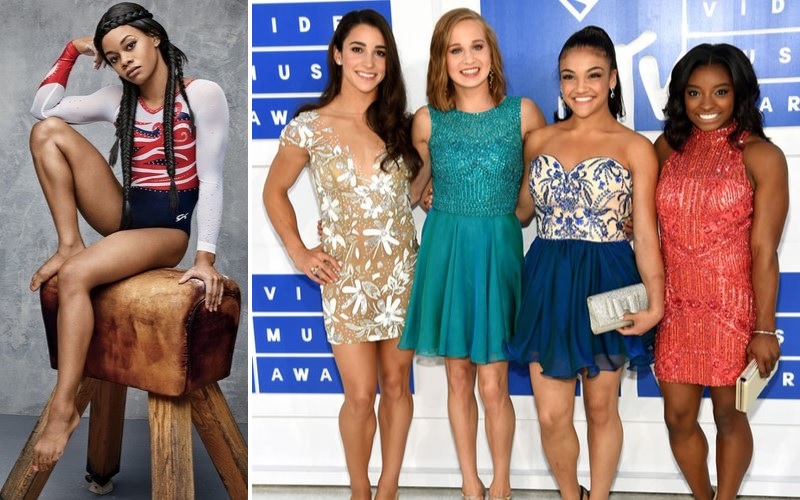 The "Final Five" continued their media blitz at the MTV VMA Awards. The Olympic gold medal gymnasts walked the event's "white carpet" and presented an award. However, the "Final Five" was actually a "Final Four" as the Gabby Douglas was unable to attend and I am upset about it.
Douglas revealed on Twitter that she was resting after a recent trip to the hospital. MTV also gave her shout out.
Out of hospital&resting comfortably! #FinalFive sad I can't be with u 2 present tonite? @MTV thank u xoxo ? #VMAs pic.twitter.com/cIfYOIcoL6

— Gabby Douglas (@gabrielledoug) August 28, 2016
feel better, darling! we miss you ?

— MTV (@MTV) August 28, 2016
She did not give many details, but Douglas' rep states the 3x Olympic gold medalists is recovering from a "seriously infected past mouth injury" and "continues to have deep swelling and adverse reactions to medications."
Douglas' health obviously takes precedence, but ohhh, what a missed moment for her and for us! From media scrutiny to cyber bullying, Douglas did not have the greatest experience in Rio. However, she eventually received much support from A-list celebrities and even social media.
The VMA audience proudly chanted "USA! USA!" as the "Final Five" presented Best Female Video. (They did the same for Michael Phelps as he introduced Future)
However, had Douglas been present, I'm almost certain somebody in the audience would have chanted "Gabby! Gabby!" and others would have followed to show her some love, support, and most importantly, respect. I would have LIVED for this moment.
Beyonce met the final five and Laurie Hernandez is all of us https://t.co/gZR5rrwKzx pic.twitter.com/kMwWs5gO1P

— HuffPostWomen (@HuffPostWomen) August 29, 2016
Beyonc´ also happened to win the Best Female Video award. She graciously hugged each "Final Five" member and briefly chatted with Simone Biles. As someone who never fails to champion black women, I would have loved to see Queen Bey give Douglas an extra special word.
Celebrities and admiration from large crowds is probably not necessary to boost Douglas' self-esteem, but the moments I imagine "could have been" would have been some of the most memorable of the night.
I'm sure there will plenty more opportunities for Douglas to get her shine. And despite her Rio troubles, girl is still winning. She recently teamed up with NIKE for major athleisure line.
Be the first to receive breaking news alerts and more stories like this by subscribing to our mailing list.