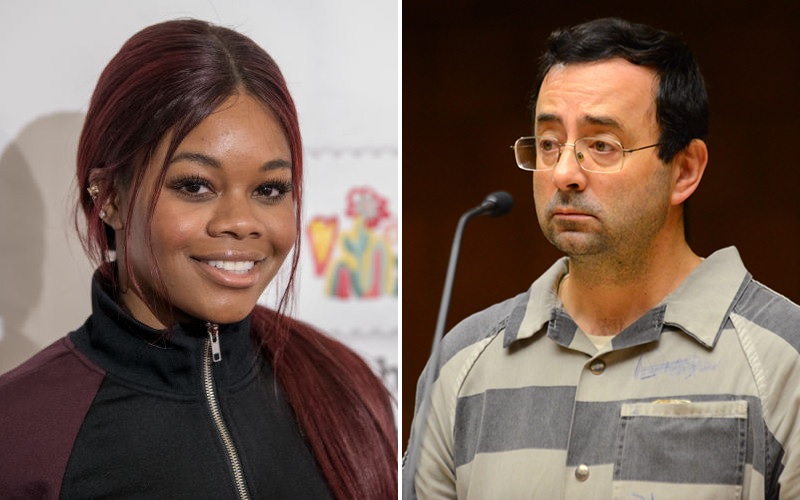 Gabby Douglas continues to clarify previous victim shaming statements by also revealing she has experienced sexual abuse. Douglas joins over 100 other women accusing former USA Gymnastics team doctor Larry Nassar of sexual misconduct.
Days after facing heavy backlash for suggesting it was a woman's responsibility to "dress modestly and be classy" in response to teammate Aly Raisman's allegations against Nassar, Douglas spoke out about her own experience with Nassar in a written statement on Tuesday (Nov. 21).
She wrote in part:
"I didn't view my comments as victim shaming because I know that no matter what you wear, it NEVER gives anyone the right to harass or abuse you. It would be like saying that because of the leotards we wore, it was our fault that we were abused by Larry Nassar.

"I didn't publicly share my experiences as well as many other things because for years we were conditioned to stay silent and honestly some things were extremely painful. I wholeheartedly support my teammates for coming forward with what happened to them."
The three-time Olympic gold medalist again apologized for previous comments and also explained that she was trying to be a role model for young girls with her word choices. "I admit there are times that I fall short," she admitted.
"I understand that many of you didn't know what I was dealing with, but it is important to me that you at least know this. I do not advocate victim shaming/blaming in any way, shape or form! I will also never support attacking or bullying anyone on social media or anywhere else.

"…I will never stop promoting unity, positivity, strength, being courageous and doing good instead of evil. I have learned from this and I'm determined to be even better."
Though Raisman never commented on Douglas' victim shaming comments, she did support her teammate for sharing her experience with Nassar.
I applaud your bravery @gabrielledoug I support you.

— Alexandra Raisman (@Aly_Raisman) November 22, 2017
love you so much. so glad you know i would never attack you and that i support you too- because united we stand, divided we fall. #unity https://t.co/4yMKxtRI6G

— Gabby Douglas (@gabrielledoug) November 22, 2017
On Wednesday (Nov. 22), Larry Nassar, 54, pleaded guilty to seven counts of sexual assault in a Michigan court. He is expected to serve a minimum of 25 years in prison. Sentencing will take place January 12th and his victims will be able to speak.
More than 130 women, including Douglas, Raisman, and their 2012 Olympic teammate McKayla Maroney, have accused Nassar of sexual assault which occurred during his three-decade tenure with USA Gymnastics.
In July, Nassar was charged with 22 counts of first-degree criminal sexual conduct and 11 counts of third-degree criminal sexual conduct. He also pleaded guilty to child pornography charges and that hearing is scheduled for next week.
USA Gymnastics stands behind Douglas, Raisman, and every other gymnast who has accused Nassar.
We admire the strength shown by Gabby and her teammates in speaking out publicly to hold a predator accountable.

The organization has taken specific and concrete steps to prevent future abuse by adopting the USA Gymnastics Safe Sport Policy. pic.twitter.com/MzgtWfHBvA

— USA Gymnastics (@USAGym) November 22, 2017
Be the first to receive breaking news alerts and more stories like this by subscribing to our mailing list.