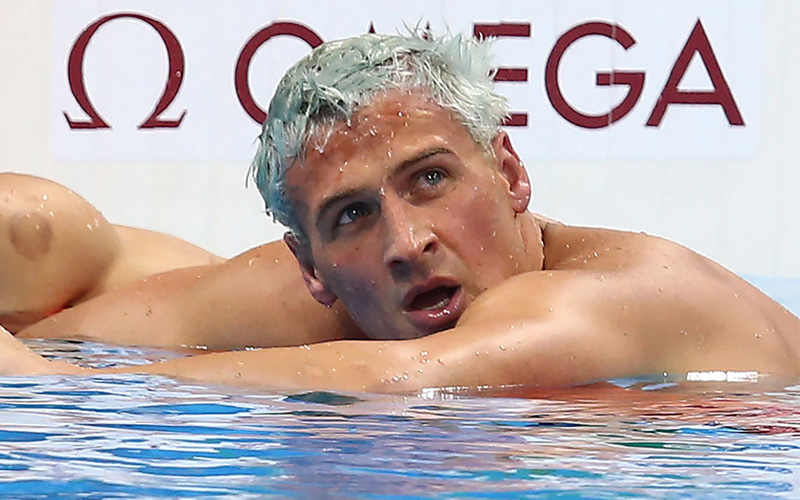 Ryan Lochte has officially become the Draymond Green of the Olympics. Both are undeniably good athletes, yet not the stars of their sport, both suffer from a love/hate relationship with the public, and both are now in the news far too much because of sheer stupidity. But where one just sent a dick pic out to the world, the other has garnered unwanted attention for a drunken night out in Rio and apparently a lot of lying.
Luckily for Draymond, he still gets to go home and compete on the dangerous Warriors squad this year and hopefully will be able to put all of this behind him. Lochte, however, is suffering a lot more for his actions. Lochte has come out and apologized for his actions, and another interview will soon air (in both the US and Brazil) where he dives further into what exactly happened that night and in the ensuing days.
And while it's commendable that he's apparently trying to set the record straight (although one can only hope he's at least slightly more genuine this time), it doesn't clear him of everything that's happened. In fact, despite the coming interview, it appears the damage may already be done.
It turns out that his out of the pool actions down in Rio have cost Lochte all four of his major commercial sponsors. Ralph Lauren, Airweave, Gentle Hair Removal, and Speedo have all cut ties with US swimmer. The loss will apparently cost Lochte about $1 million in annual earnings.
Industry sources tell me Lochte lost about $1 million in current endorsement deals today.

— Darren Rovell (@darrenrovell) August 22, 2016
I don't care who you are, that's a lot of mullah to be losing. But for a swimmer, that's got to be especially painful. These guys aren't like NBA or NFL players, signing multi-million dollar contracts on the reg. Most of their money, particularly when you get to this level, comes from endorsements.
So for Locthe to lose all four of his biggest sponsors is a tough blow for the 12-time Olympic medal winner. Whether or not things change after his interview (which is set to air on Saturday) remains to be seen. But for now, one thing is clear. Lochte done f*cked up.ha
Be the first to receive breaking news alerts and more stories like this by subscribing to our mailing list.