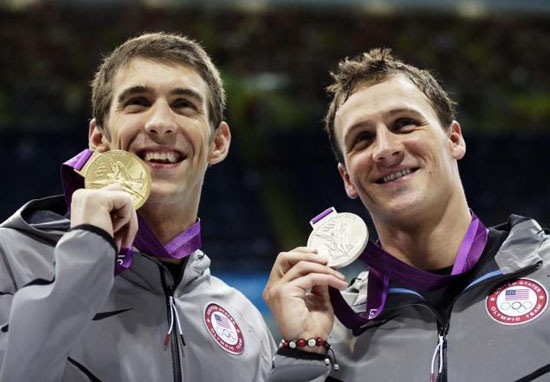 Michael Phelps continues to be the Greatest Olympian Ever after scoring his 20th gold medal Thursday (Aug 2) during the 2012 London Olympics.
After winning the gold in the men's 200-meter individual in 1:54:27, Michael Phelps has also made more history.
Having already secured the title of "most decorated Olympian of all time" just days before, Phelps is now the first male swimmer — in history — to win three consecutive gold medals in the same event.
Teammates on the U.S. swim team, Ryan Lochte and Phelps entered the race as the top two seeds after finishing 1-2 in the semifinal. They finished 1-2 in the final but the order was reversed. Lochte finished second to win silver while Laszlo Cseh of Hungary touched the wall third.

One of the most hyped head-to-head rivalries before the Olympics began, the "Phelpte" drama produced a 1-1 draw. Lochte struck first, with a dominant win over his teammate in the 400-meter individual medley. Between that event and Phelps' win in the 200-meter IM, the pair had been relay partners rather than competitors. (Source)
This is Phelps' first individual gold medal in the London Games, and his 16th career gold medal. He has already won gold in the men's 4×200-meter freestyle relay and silver in the 4×100-meter relay, and he still can win more, as he has a couple more races to go.
Be the first to receive breaking news alerts and more stories like this by subscribing to our mailing list.