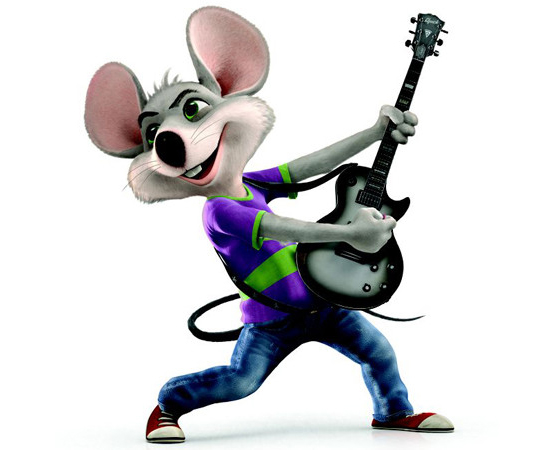 Just like everyone else … Chuck E. Cheese has gone Pop!
CEC Entertainment Inc. — famous for its once popular national chain of family entertainment centers called "Chuck E. Cheese's" — is retiring their mascot's "outdated" image, and has launched a national ad campaign to show off their new revamped image of Chuck E Cheese as a hip, electric-guitar-playing rock star.
Based out of Irving, Texas, CEC Entertainment is struggling to revive sales at its more than 500 pizza restaurants after reporting a 4.2 percent drop in sales in the first quarter of this year.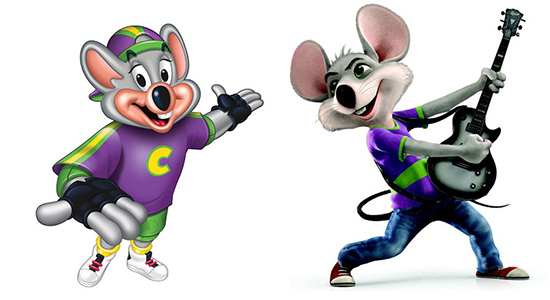 Those of us who grow up during the 1980's and 90's have fond memories of going to Chuck E Cheese's for a friend's birthday party on a weekend day because it was the coolest place for kids to be at the time.
Like a Las Vegas for kids, in addition to serving delicious pizza, Chuck E Cheese's allows you to buy tokens that you put into machines and win tickets, which you can redeem for prizes. The more tickets you have, the bigger the prizes you can get.
The restaurants also offer a musical variety showed performed by Chuck E and his friends.
But now that kids have iPhones, iPads and the Internet … they don't really care about (or even have time for) poor old Chuck E. Cheese, and CEC Entertainment is looking to change that, by updating the giant rodent's image, including his voice, to appeal to the new generation of kids.
According to ShowBizPizza.com, a Chuck E. Cheese fan site, the man who has played the voice of Chuck E. Cheese since 1993 found out that he was replaced only after coming across "Chuck's Hot New Single" online and realizing that it was being sung by someone else.
In a Facebook post, Duncan Brannon, Chuck's former voice, wrote that part of hi assignment in the early 90's when he first took on the role was to transform Chuck E. Cheese from a "joke-telling, sometimes off-color New Jersey rat" to a lovable, mainstream mouse.
CEC Entertainment says that Brannon wasn't fired … they simply "chose to utilize new voice talent" for its new ad campaign. The company added that Brannon, a freelancer, is still in contract with them to provide entertainment in its restaurants.
The new Chuck E. Cheese will be voiced by Jaret Reddick, the lead singer for the pop-punk bank Bowling for Soup.
What do you think about Chuck E. Cheese's "new" image … and do you have any memories of being there as a kid?
Share in the comments below!
Be the first to receive breaking news alerts and more stories like this by subscribing to our mailing list.