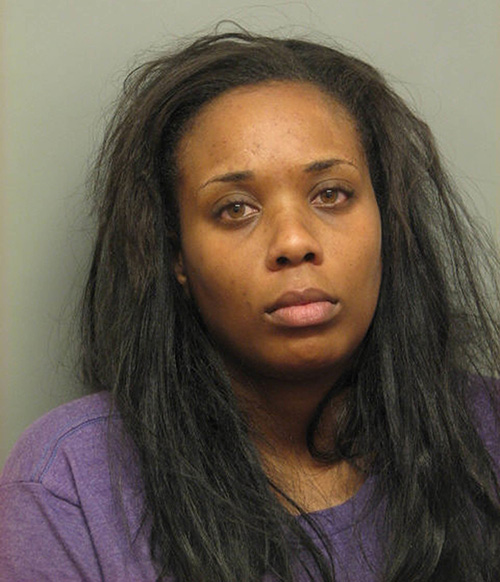 Dwyane Wade's batsh*t crazy ex wife Siohvaughn Funches-Wade was arrested over the weekend after she tried to abduct the former couple's two children.
A rep for the Cook County Sheriff's Office said in a statement that Siohvaughn was charged with two counts of attempted child abduction, two counts of unlawful visitation interference and one count of resisting arrest … after she reportedly went against a court-ordered custody agreement by refusing to let the Miami Heat player's sister pick up his two sons so that they could catch a plane to Miami for Father's Day.
According to the Chicago Tribune:
The two boys — aged 10 and 5 — were supposed to be picked up from Siohvaughn Funches-Wade's South Holland residence Saturday afternoon by Wade's sister so they could catch a flight to Miami to be with their father for Father's Day, but Wade's sister got no answer at the gate , according to an emergency motion filed in court.

Attorneys for Wade alleged his former wife barricaded herself in the home for several hours, refusing to let Wade's sister in or the boys out. By then, sheriff's police officers were called to the home and were unable to get Funches-Wade to respond to their knocks on the door or calls, said department spokesman Frank Bilecki.

Police gained access to a neighbor's residence, enabling officers to see that the two children were playing with two adults, he said. "Then it became a waiting game," Bilecki said.

When Funches-Wade later exited her house without the children, police attempted to arrest her for allegedly violating a court order, but she resisted, Bilecki said. Funches-Wade struggled with officers who tried to handcuff her and tried to moved back behind her home's security fence, Bilecki said. Another woman tried to pull her behind the fence as well, he said

As officers succeeded in handcuffing her, Funches-Wade said she was asthmatic and short of breath, Bilecki said. An ambulance was called and she was transported to St. Margaret Mercy Hospital in Dyer.
Bilecki says Funches-Wade spent the night in the hospital, and spent Father's Day behind bars. She was released Monday after posting $10,000 bond.
The boys ended up missing their commercial flight, and Wade was forced to charter a more expensive private jet for them Saturday night so that they could make it to Miami in time for Father's Day.
Wade's older son later told him that a woman named Nadgee Alarcon — who at at the home at the time of Siohvaughn's arrest, and was also charged with resisting arrest — "smacked him on the head" and was "cursing at him with abusive language."
Days later, the NBA star and his attorneys filed an emergency motion in court, asking the judge to suspend Siohvaughn's visitation rights … since she obviously can't handle them.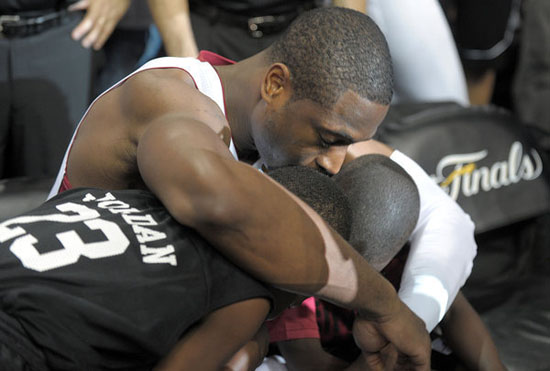 "My children have been subjected to a great deal of 'drama/trauma' as a result of (their mother's) conduct throughout this case," D. Wade wrote in the filing.
Wade's attorney James Pritikin said in a phone interview, "We hope the judge will do whatever is necessary to make sure the children's safety is protected both physically and emotionally."
Dwyane and Siohvaughn divorced in 2010, and have been at war ever since.
In 2011, a judge award Wade sole primary custody of their two sons, and Siohvaughn was given visitation rights. But clearly, she is NOT happy with the current arrangement.
Add on the fact that Dwyane Wade's new fiancee Gabrielle Union is smokin HOT … and you've got one scorned woman.
But despite all of the drama off the court, Dwyane's game on the court was unaffected Sunday night (Jun 17) — Father's Day — as he helped the Miami Heat defeat the Oklahoma City Thunder in Game 3 of the NBA Finals. Two days later, the Heat defeated OKC once again, and now they're leading the series 3-1.
The Miami Heat are now just one game away from winning the 2012 NBA Playoffs, and Dwyane has said that this "situation" with his ex wife hasn't adversely affected his game at all.
A hearing for the motion is set for June 26th, which is also the date of the potential Game 7 of the NBA Finals, due to take place in Oklahoma City.
[Sources: CBS/AP, Chicago Tribune]
What are your thoughts on Siohvaughn and her antics?
Be the first to receive breaking news alerts and more stories like this by subscribing to our mailing list.