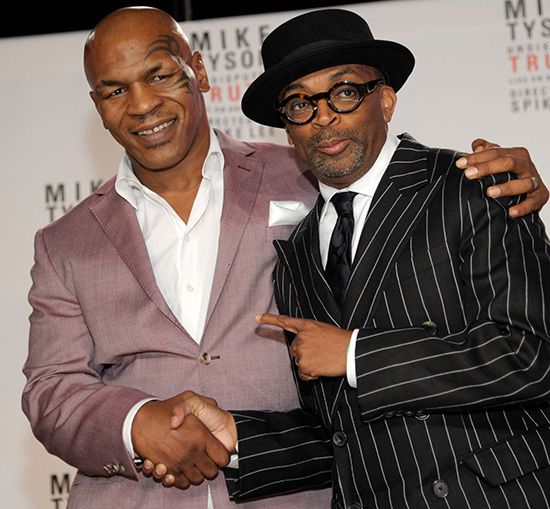 Former undisputed heavyweight champion of the world Mike Tyson has announced that he is teaming up with famed director Spike Lee to bring his one man show "Mike Tyson: Undisputed Truth" to Broadway.
The show is described by the AP as a "raw confessional on the highs and lows of the life of the retired heavyweight and tabloid target," and will not only mark Tyson's Broadway debut, but Spike Lee's as well.
Tyson said at a press conference Monday (Jun 18) announcing the show, "It's about me being on stage and being pretty raw. Not necessarily raw in a vulgar sense … I'm just naked and vulnerable, and I'm just telling you who I am and where I'm from and how this happened and how I lose all this damn money and how I had all these children and how I go to prison and, you know, you know what happened guys, right?"
Tyson said that he was inspired to do a one-man show after watching Chazz Palminteri tell stories about growing up in his show "A Bronx Tale.
Spike Lee, the director behind classic films like "Do the Right Thing," "Malcom X" and "Inside Man," said when he saw a DVD recording of Tyson's one-man show at the MGM Grand in Las Vegas, he immediately wanted to work with him. The duo will start working on the Broadway version of the show after the Fourth of July.
"It's a great story and he tells it masterfully," said Lee, who calls it a tale of redemption that only needs a little tweaking from the Vegas version. "He's lifted himself off the canvas."
He continued, "It takes courage to get into the ring, but it takes courage to get onto the stage. Denzel's not playing Mike, it's not Sam Jackson. It's Mike Tyson, in person, on stage. That takes a lot of courage."
So what will audiences learn when they see the show?
"They'll find out that my mother is a prostitute, my father's a pimp and I come from a real, um, this — I don't know what — the sex worker world and stuff, you know. That's why I look at the world from a different perspective than most people when I was a young kid," Tyson explained, adding the show the show is a part of his effort to move his life in a positive direction.
"This is just me and my wife wanted to do — this is what we decided to do after I gave up using drugs and being a pig and stuff, right, so this is what we decided we were going to [live] on this kind of level. Just keep it moving and doing positive things," he said.
Mike Tyson's one-man show "Mike Tyson: Undisputed Truth" is set to run at the Longacre theater in New York City from July 31st to August 5th.
Be the first to receive breaking news alerts and more stories like this by subscribing to our mailing list.