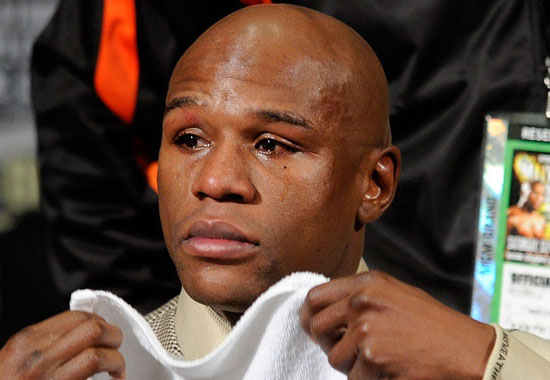 Floyd Mayweather Jr. will have to suck it up, and serve the rest of his prison sentence like a man … because his request to be released from jail and put on house arrest has been DENIED!
As we reported this week, Floyd is currently locked up on misdemeanor domestic battery charges (for beating his baby mama in front of their kids last year) … and after less than two weeks behind bars, the pro boxer by means of his attorneys, begged asked the judge to put him on house arrest.
READ: Floyd Mayweather Jr. Asks Judge for House Arrest; Says Jail is Hurting His Boxing Career
Floyd said he wanted to serve the remainder of his time on home confinement instead of prison because he claims the low-quality food, water and overall living conditions have threatened his health, and is putting his boxing career in jeopardy.
But Justice of the Peace Melissa Saragosa didn't buy it, and on Wednesday (Jun 10), she wrote in a letter that his request for house arrest was denied, essentially saying that Mayweather was acting like a big ol' baby.
She also blamed him for the so-called "toll" the boxer says prison is taking on his body, saying that his condition is "self-induced as water is made available to [Floyd] twenty-four hours a day," and the only reason he isn't "eating properly" and getting his daily required calorie in-take is because he refuses to eat the meals that are provided for him.
Saragosa also said Mayweather's complaints that he is unable to exercise in jail are also unfounded. "While the physical training areas and times provided to (Mayweather) may not be consistent with his prior regimen, he is indeed provided sufficient space and time for physical activity if he so chooses," she wrote.
Floyd's lawyers insist that he isn't seeking special treatment.
Be the first to receive breaking news alerts and more stories like this by subscribing to our mailing list.