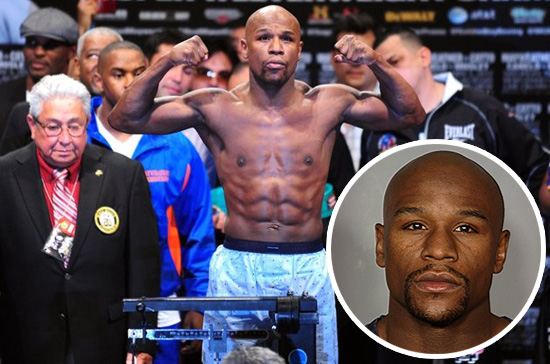 He's only been behind bars for two weeks, and Floyd Mayweather Jr. is already cracking, and wants OUT of this jail business.
Floyd is currently locked up on misdemeanor domestic battery charges (for beating his baby mama in front of their kids last year) … and after undergoing a recent physical, the boxer is reportedly concerned that the remaining time he has to serve in jail will have a negative effect on his boxing career.
Mayweather's doctors say that due to the poor conditions prison provides, the championship boxer's athletic physique is nearing the point of irreparable physical damage.
So to ensure that Floyd remains in tip-top shape for the 2-3 years he has left in his boxing career, his attorneys have filed paperwork asking the judge to release him from the Clark County Detention Center in Nevada, and allow him to serve the remainder of his 87-day prison sentence on house arrest.
In the docs, Mayweather says he spends 23 hours-per-day locked in isolation for his own safety. But he claims the imprisonment is taking a "cruel and inhuman" toll on his rippling physique because he can't train at a world class level while serving his time.

Mayweather claims his doctor is concerned about his "dehydrated appearance, his lack of muscle tone and his dry mucus membranes."

Floyd says his doctor also "expressed deep concern for [Floyd's] health and explained that any lengthy period of time with an inappropriate diet, coupled with lack of regular exercise, will most likely lead to irreversible damage to Mr. Mayweather's physique."

Floyd's doctor also told the court he's concerned about Floyd's diet … because he used to eat 3,000 to 4,000 calories per day … and now, the doc believes FM is eating less than 800.

In the papers, 35-year-old Floyd estimates he only has 2 years of boxing left in his career … so every day counts.  A hearing will be held on Floyd's request on Thursday.

[TMZ]
Seeing as how the judge was already nice enough to postpone his sentence so that he could fight Miguel Cotto in May … Floyd should probably just man up, and serve the rest of his time like everyone else.
What do you think?
Be the first to receive breaking news alerts and more stories like this by subscribing to our mailing list.