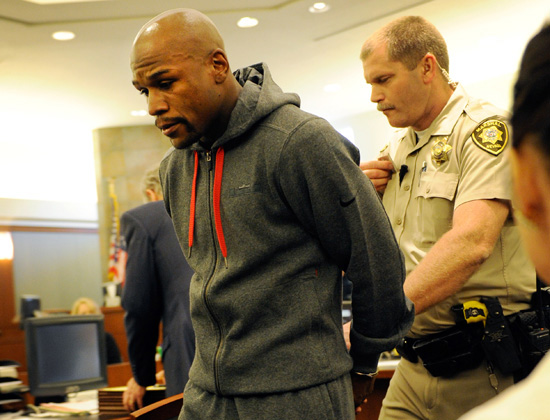 Floyd Mayweather Jr. officially started his 90-day jail sentence for domestic violence after the pro boxer turned himself in to a Las Vegas jail early Friday (Jun 1).
Floyd — who pleaded guilty to misdemeanor domestic violence back in December for hitting his baby mama in front of their children — was supposed to begin his sentence back in January, but the judge postponed his surrender date so that he could fight Miguel Cotto on May 5th.
He went on to win the fight by unanimous decision, and also earned a cool $32 million (or more) in the process.
The five-division champion, with a fighting records of 43-0, wore a gray sweatsuit and sneakers in court Friday, and reportedly said nothing as a judge told him he had completed his community service requirements before he was handcuffed and escorted out of the courtroom.
His best friend 50 Cent was there for moral support, and told reporters outside the Las Vegas courthouse, "He'll be all right … It's an uncomfortable situation for everyone."
Floyd Mayweather is a high-profile inmate, which means that he will serve most of his time alone in a small cell no larger than 7 x 12 feet without a television. He will have about an hour of exercise time permitted each day.
Out of 90 days, Mayweather will only have to serve 87 due to the judge giving him credit for the three days he spent in jail after his arrest. Additionally, his time could be reduced by several weeks for good behavior.
Be the first to receive breaking news alerts and more stories like this by subscribing to our mailing list.