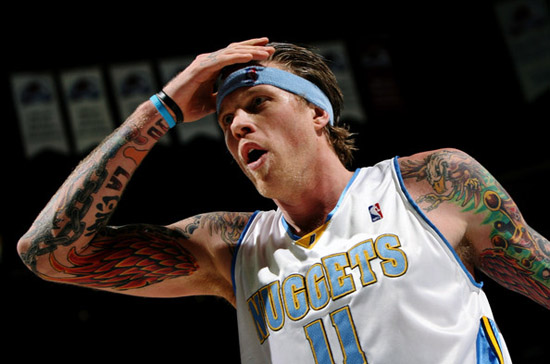 If the bench on the Denver Nuggets looked a little smaller last night, it's because Chris "Birdman" Andersen was missing.
The Denver Nuggets reserve center has reportedly been "excused indefinitely" from all-team related activities after the Douglas County Sherfiff's office seized some "property" related to child pornography from his home in Colorado.
As of now, Andersen has not been arrested or charged with any crime, but The Denver Post reports that the "property" was seized early Thursday morning (May 10) and the Sheriff's office is investigating.
Andersen participated in the Nuggets' shoot-around Thursday morning, but wasn't present Thursday night as his team defeated the Los Angeles Lakers at home with a final score of 113 to 96.
A spokeswoman for the sheriff's office said the unit investigating Andersen investigates child porn, Internet luring and child predators, and the items they typically seize include computers, hard drives and thumb drives. But she wouldn't go into detail about what exactly was taken from Andersen's home.
"It could include many different things," Deborah Sherman told reporters. "Right now we're not saying. They literally just got the property this morning," Sherman said. "The sheriff's office did contact him this morning while he was at his house and he cooperated fully."
Chris Andersen — who is in his 10th year in the NBA and his seventh season in Denver — has been under investigation for unknown Internet crimes against children since February of this year, when the Douglas County sheriff's office first received a tip from California authorities that child porn was either exchanged or downloaded using a computer inside Andersen's home.
Andersen has somewhat of a history of helping out children's charities during time in Denver and New Orleans, where he played from 2004 – 2006 until he was suspended from the league for drug abuse. After being re-instated into the NBA, he started back playing for the Nuggets, who originally drafted him in 2001.
According to the Denver Nuggets' media guide, Andersen has helped raise money for Mount Saint Vincent, a home for troubled and abused children, and was also honored at the home's 2009 Silver Bell Ball. He has also had involvement with Alliance for Choice in Education, which provides scholarships for low-income families to use in private schools.
Mark Bryant, Andersen's longtime lawyer and confidant, released a statement to The Denver Post calling the Nuggets player an "outstanding member of [the Denver] community."
"I believe in Chris. I would ask the citizens of Colorado to give Chris his due," Bryant said. "Like every one of us, he is presumed innocent. At the end of the day, I am confident it will be shown that he did nothing wrong."
Be the first to receive breaking news alerts and more stories like this by subscribing to our mailing list.