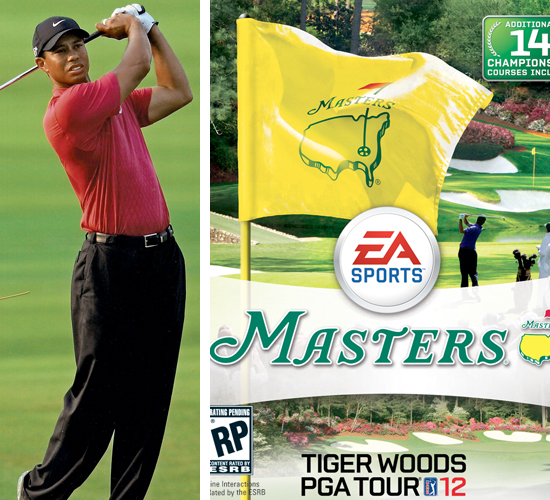 The game is called "Tiger Woods PGA Tour," but don't expect to see Tiger Woods on the cover of the series' 16th edition. Why? Well, we don't know. That's something you'd have to ask EA Sports, who replaced the golfer's face with a shot of the Augusta National Golf Club's yellow flag on the video game's cover.
Hit the link below for more details:
"Tiger Woods PGA Tour 12: The Masters" will be released on March 29th on all major video game platforms, including the Xbox 360, Playstation 3 and Wii, and Woods has appeared on the cover of every single version of the game, EXCEPT for this particular one, which just so happens to have been made after his very public cheating scandal and subsequent divorce from his wife.
So is the cheating scandal part of the reason why EA Sports made the decision to not include Tiger Woods on the cover of the new golf game? Not so, says EA Sports President Peter More.
"If the insinuation is it's a reflection of EA Sports backing away from its relationship that goes back literally 13 years with Tiger, that's not the case whatsoever. You shouldn't read into the fact that Tiger's not featured on the box art of that particular edition," EA Sports President Peter Moore told Reuters.
Despite his face not being on the cover of his own video game, Tiger says he's "excited" for its upcoming release.
"I am very happy and excited that the Masters Tournament is featured in the Tiger Woods PGA Tour game," he said in a statement to Reuters. "There are many new and unique elements in the game that will make everyone feel like they're competing at Augusta National."
Worldwide sales for Woods' game have dropped 50-60% worldwide following his big cheating scandal. Video game analyst David Cole of DFC Intelligence says that EA Sports and Woods will maintain a relationship, however there will most likely be an emphasis on other golfers.
What do you think about this?
Be the first to receive breaking news alerts and more stories like this by subscribing to our mailing list.