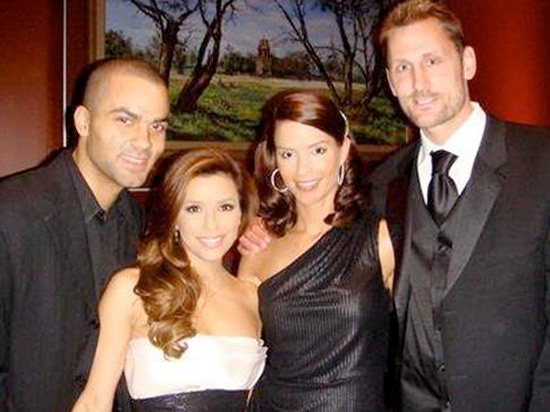 Erin Barry has finally broken her silence on rumors that she had an affair with NBA star Tony Parker, who just so happened to be her husband's former teammate.
In an open letter posted to her website, Erin, the estranged wife of former NBA player Brent Barry, who ironically filed for divorce from Erin around the same time Eva Longoria filed for divorce from Tony, tells her side of the story (somewhat) and bluntly states: "I DID NOT HAVE AN AFFAIR WITH TONY PARKER"
Peep the full letter below…
"It has been brought to my attention that people who do not know me think that I have had an affair with Tony Parker. I have received hundreds of emails and phone calls from supportive friends who do know me and know that what is being insinuated about me is a complete lie. I am so busy with my children and law school studies that to take even a few moments out of my day to address this ludicrous issue is an annoyance. I only take the time to explain myself because apparently my silence, as a result of my indifference, has been construed as an admission of guilt. These are my words and this is the last you will hear from me on this subject because I have more important things to do.

"I DID NOT HAVE AN AFFAIR WITH TONY PARKER, nor did I "pursue" Tony Parker. Unfortunately, because our divorces are occurring at the same time, great speculation has been cast on our friendship. My friendship with Tony Parker had nothing to do with the end of my marriage (which is painful enough without this added drama), and to assume that we had an affair is naïve, ridiculous, and completely misguided.

"Every day I dedicate myself to being a good person and the best Mom that I can possibly be for my two beautiful children. I pride myself on being a Mom first, an advocate for abused children second, and a law student third. Those are the things that are of the utmost importance to me. I have spent my adult life fighting for children who have been victimized so forgive me for not caring when someone tells me that my name is being dragged through the mud.

"Salacious rumors are not what keep me awake at night. What keeps me awake is wondering how the 5-year-old who was taken away from her abusive family is sleeping during her first night in a children's shelter. I worry about friends fighting overseas and whether or not they will return home to their families. I worry about the health of my children, my family, and my friends. I worry about soccer uniforms, carpool, immunizations, baseball practice, paying the bills on time, grocery shopping, the kid's homework, and so many other things that may seem menial to some people; but to me are everything. Right now I worry about my law school finals… being a first year law student is much scarier than dealing with gossip!"
Your thoughts?
Be the first to receive breaking news alerts and more stories like this by subscribing to our mailing list.