She changed wigs, but she forgot to switch something else!
Aretha Franklin pulled one of the biggest no-no's in the book of red carpet etiquette. On Sunday (Jun 13), Aretha hit the red carpet of the 2010 Tony Awards in a shiny gold dress with a feather boa and Chanel bag.
And guess what she wore Monday night to the Apollo Theater Benefit Concert & Awards Ceremony?…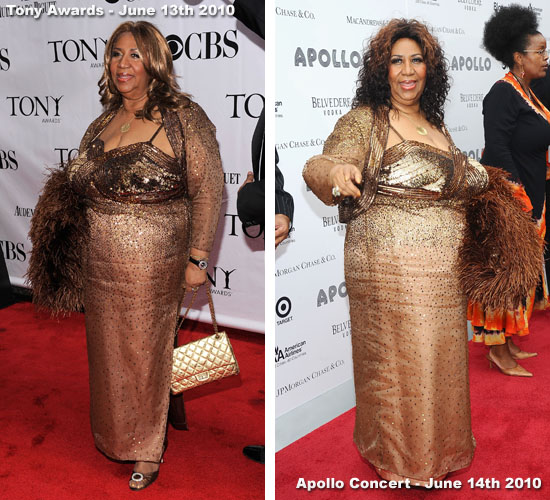 This chick pulled one of the biggest no-no's of red carpet etiquette and wore the same exact dress again!
Why would she do something like this? No one quite knows. Maybe she didn't have time or was just too lazy to go buy another dress, or maybe she is trying to change the game send a message that it's okay to where the same dress twice (in the same week) on the red carpet at TWO separate events on TWO separate nights!
Or maybe she just loves that damn dress too much. It's okay to have a favorite outfit and everything but c'mon Aretha! You know better than that! We hope you at least had it dry-cleaned or something too, SMH…
Be the first to receive breaking news alerts and more stories like this by subscribing to our mailing list.