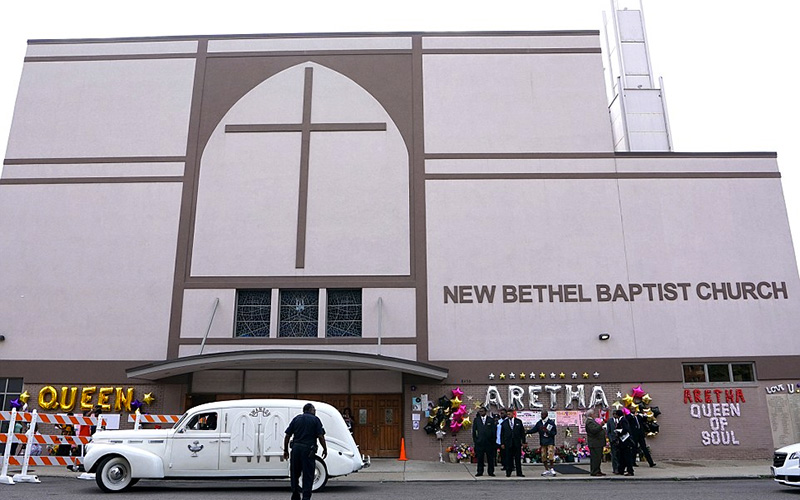 A third viewing for Aretha Franklin was held at her home church New Bethel Baptist in Detroit, Michigan Thursday (Aug. 30), and, as expected, the Queen of Soul underwent yet another outfit change. This time, she was wearing a "rose gold custom knit suit with pink beaded lace."
The Detroit Free Press reported "she also wore specially made pink South Sea pearl necklace and earrings. Her shoes were rose gold sequin Christian Louboutin heels."
On the first day of a two-day public viewing at the Charles H. Wright Museum of African American History in Detroit, Ms. Franklin was wearing all red (including red heels) in honor of her honorary membership in the Delta Sigma Theta sorority. She reportedly wore a light blue dress and matching blue pumps for Day 2 of visitation at the Wright Museum.
Linda Swanson, executive vice president of Swanson Funeral Home handling services for Ms. Franklin, said the Queen of Soul would be wearing a different outfit for each day leading up to her funeral on Friday. "It's a surprise," she said. "Just natural changes in wardrobe that a queen would make."
Franklin's funeral on Friday (Aug. 31) is invite-only, but will be live-streamed online broadcast live on TV. It will feature appearances from a long list of celebrities and music legends, and is reported to last around six or seven hours.
Former president Bill Clinton, Smokey Robinson, Rev. Jesse Jackson, Rev. Al Sharpton, Cicely Tyson, former U.S. Attorney General Eric Holder, Clive Davis, and many more are among the speakers, while Stevie Wonder, Ariana Grande, Jennifer Hudson, Fantasia, Chaka Khan, Faith Hill, Yolanda Adams, and many more will perform at the service.
Aretha Franklin died at the age of 76 on Thursday, August 16th after battling pancreatic cancer.
Be the first to receive breaking news alerts and more stories like this by subscribing to our mailing list.