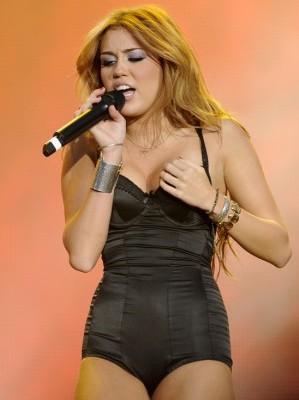 Former "Hannah Montana" TV star Miley Cyrus has been receiving a lot of heat lately about her tendency to do and wear inappropriate things for a 17 year-old girl. However according to the "Cant Be Tamed" singer, it's just one of those growing up phases!
"I'm not trying to be 'slutty' I'm not trying to be like, go to the club and get a bunch of guys… what I'm trying to do is to make a point with my record and look consistent, in the way my record sounds and the way I dress. I'm really comfortable with my body, I work really hard to be fit and to know that I can wear whatever makes me most comfortable. I feel more comfortable dressing with a little less, which is just how I've always been. Now I'm able to do that a little more freely and, also, I've just grown up to be this way too. It's not like this was me five years ago. It's me now, presently."
We feel you wanting to grow up Miley! But why be in such a rush?? You're gonna look back miss your teenage years when you turn 40…
Be the first to receive breaking news alerts and more stories like this by subscribing to our mailing list.