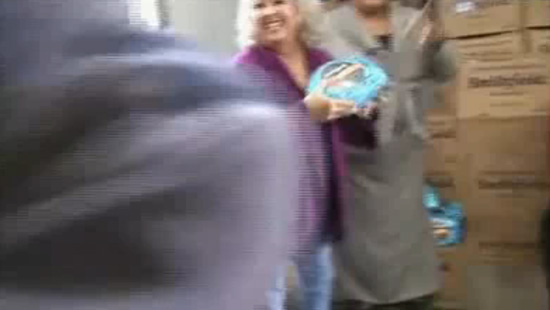 Tip of the day: When hams are being tossed around, don't turn your back! And above all, stay alert!
Food Network TV personality Paula Dean was accidentally hit the face with a frozen ham during a holiday food drive in Atlanta and it was all caught on video. The Emmy award winning television chef was helping out the Hosea Feed the Hungry Atlanta-based charity when someone threw a ham with the intent of it going into the storage bucket. Unfortunately, the person missed and the ham hit Miss Dean right in the face! According to her rep, she was startled at first and laughed about it later. Luckily she didn't break any bones and all she needed was ice to bring down the swelling.
"I just got hit with a hog!" Deen said with a smile. "You have to be able to laugh."
So does that give us the green light to laugh without remorse? Cause that sh*t was funny hilarious! Continue reading to see it for yourself.
Be the first to receive breaking news alerts and more stories like this by subscribing to our mailing list.