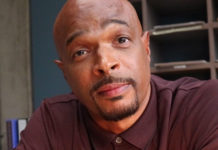 Damon Wayans says he's DONE with "Lethal Weapon." The actor announced this morning (via EurWeb) that he is quitting the hit Fox series, effective this December after he finishes filming the 13 episodes for the show's upcoming third season.
Amber Rose stepped out last night (Wed. May 12) at Nylon's May Young Hollywood Event at the Roosevelt Hotel in California. Mel B attended "An...
Actor/comedian/writer Damon Wayans Jr, son of Damon Wayans and nephew of Keenen Ivory Wayans, was honored Tuesday night in Universal City, CA at Jillians...