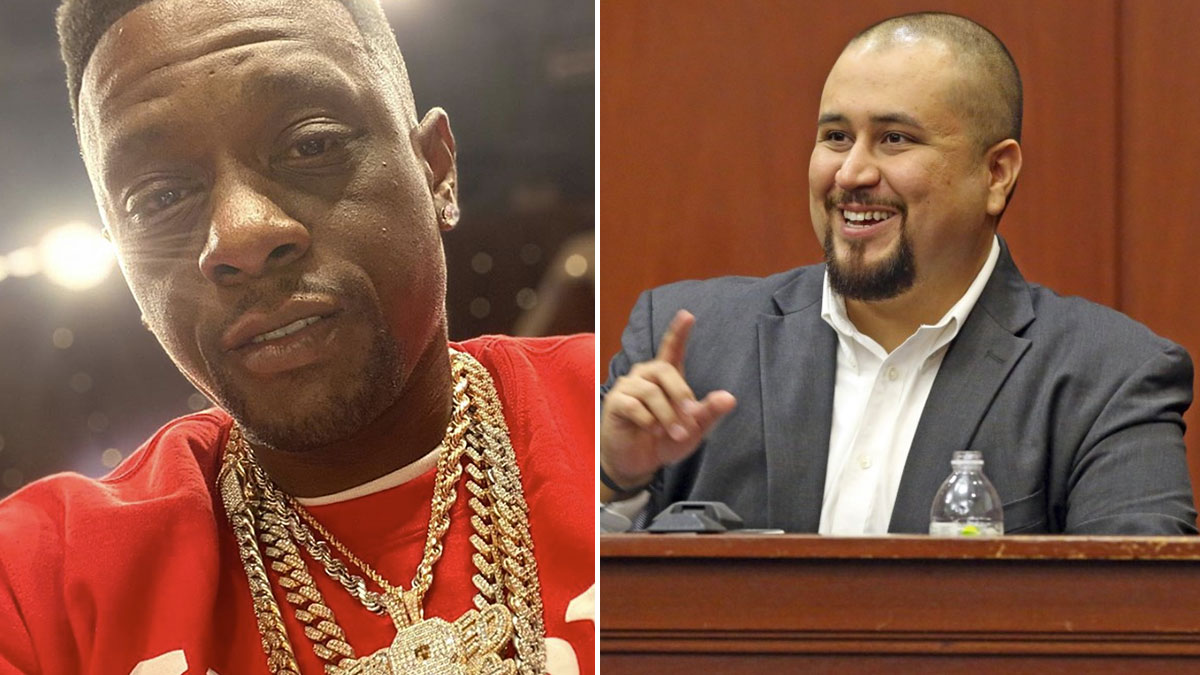 Boosie Badazz wants you to know that he did NOT "beat up" George Zimmerman … and he has no idea where that fake news story even came from because he's never even met the guy!
The rapper took to Instagram to deny a social media rumor that spread like wildfire saying that he and Zimmerman recently got into an altercation at a Walmart in Florida.
According to the rumor, which has been denounced as fake news, Boosie was said to have confronted the man who got away with murdering a black teenager outside a Miami-area Walmart and said to him: "Hey, you that fat a** n***a who killed Trayvon?!"
The fake news story, originally posted on social media January 13th from Instagram blog MyMixTapez (known for their faux news stories) posted a side-by-side photo of Boosie and Zimmerman with the caption:
"It's being reported that Boosie saw Zimmerman outside of a Miami Walmart. According to witnesses, Boosie saw Zimmerman and said, 'Hey, you that fat a** n***a who killed Trayvon right?' Boosie violently approached Zimmerman. Zimmerman appeared to be 'reaching for his gun,' according to witnesses.

"Although, Zimmerman is being hospitalized, Boosie suffered injuries as well, including a busted lip and nose. Boosie is currently in custody and will appear before a judge on assault charges this week."
Who Fuckn wit Boosie? I jus wanna Kno pic.twitter.com/6hkmFIaxQt

— TheRealDyl (@lil_Rosko) January 12, 2020
As the news spread all over social media (with some of the less credible blog sites picking it up), Boosie posted a video on Instagram denying that the story was real.
Boosie said in part: "Aye, service announcement from Boosie. I never seen George in my life, but on TV. This is a lie. Leave me alone! I never seen George Zimmerman in my life. George don't know me. Talkin' 'bout I did something to him in Walmart. That is a lie!"
Boosie then plugged his new spicy chicken flavor of Master P's Rap Noodles that will be available at Walmart starting this Friday (Jan. 17).
"Let's talk the truth," he said. "My noodles drop at Walmart Friday … the best noodles you've ever tasted in the world."
https://www.instagram.com/p/B7VCD6PFY37/
In 2013, 36-year-old George Zimmerman was acquitted of the 2012 killing of unarmed teen Trayvon Martin in Sanford, Florida.
Zimmerman, a former neighborhood watch volunteer, said he'd been attacked by Martin and was simply defending himself when he shot and killed the 17-year-old in a gated community in Sanford, Florida in February 2012.
While the story of Boosie opening a can of whoop-ass on Zimmerman is beyond fake, what's real is the fact that Zimmerman recently made headlines after he filed a $100 million defamation lawsuit last month against Trayvon Martin's family, their attorneys, prosecutors and the state of Florida on allegations that the prosecution's key witness in his 2013 murder trial was "fake."
Zimmerman's lawsuit also names HarperCollins Publishers, accusing them of defamation in a book Martin's family's attorney Benjamin Crump published in October 2019 called Open Season: Legalized Genocide of Colored People.
According to the lawsuit, the book was published "with actual malice knowing the untruth or at a minimum a reckless disregard for the truth," and its title "creates the false implication that Plaintiff Zimmerman participated and participates in the genocide of colored people."
Be the first to receive breaking news alerts and more stories like this by subscribing to our mailing list.