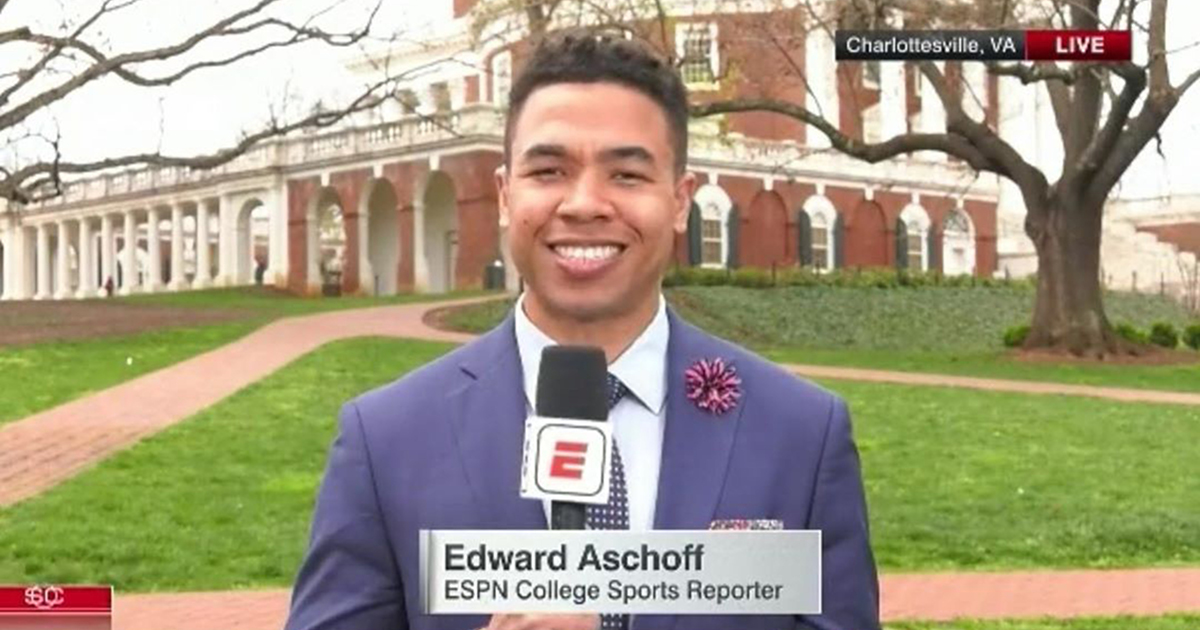 Rising ESPN reporter Edward Aschoff unexpectedly died on Christmas Eve which also happened to be his 34th birthday.
"We are very sorry to have to share the devastating news of the tragic passing of friend and ESPN colleague Edward Aschoff," ESPN shared in a statement on Tuesday. "He died earlier today, his 34th birthday. Our thoughts are with his loved ones, including his fiancée, Katy."
Aschoff's exact cause of death was not released, but the young reporter had been suffering from pneumonia in both lungs since early December. He even took to Twitter to ask his followers for advice on the illness.
Anyone ever had multifocal (bilateral) pneumonia in their early 30s as some who never gets sick and has a very good immune system? Asking for two friends … my lungs.

— Edward Aschoff (@AschoffESPN) December 5, 2019
Young adults are typically at a lower risk of contracting pneumonia. However, CBS reports that half of adults with normal immune systems who are hospitalized with severe pneumonia are younger adults.
The CDC states the lung infection kills about 50,000 Americans every year.
The 34-year-old leaves behind his fiancée, Katy Berteau. The two became engaged last year after Berteau proposed with a Godzilla-shaped ring, Aschoff's favorite film character. They were set to marry in April.
In his last Instagram post, Aschoff thanked his fiancée for support during his illness.
"Having pneumonia is pretty terrible…But it helps having this sweet angel taking care of you even when she's risking getting this soul-crushing illness herself," he wrote on December 4th. "Thanks for putting up with my 5 am coughing fits."
Aschoff joined ESPN in 2011 and quickly proved to be a great addition to the network. He was often on the sidelines reporting on college football games across the country and reported for various ESPN platforms, including SportsCenter.
In 2016, he won first place in the Football Writers Association of America's contest in enterprise reporting for his reporting on race and discrimination in college football. He shared the honor with fellow ESPN reporter Adam Rittenberg.
Several of Aschoff's ESPN colleagues paid tribute to him on-air and on social media after learning of his untimely passing.
Ed Aschoff is one of the best people I know. Talented, kind, fun, gracious and always positive. A great colleague and an even better friend. All of us are devastated and heartbroken. Just isn't fair. I love you, Ed, and will miss you. Prayers to Katy and Ed's family. https://t.co/jJQBE441Fv

— Adam Rittenberg (@ESPNRittenberg) December 25, 2019
This is how I'll remember Ed: Happy, vibrant, fun. We should all strive to enjoy life as much as he did. pic.twitter.com/IX5rBtXgHi

— Adam Rittenberg (@ESPNRittenberg) December 25, 2019
Our friend Ed Aschoff, lovingly remembered by so many on this heartbreaking day, was a ray of light. He smiled with his entire being, loved his fiancée and family, and brought joy to the job. I hope you knew him, too.

— Rob King (@ESPN_RobKing) December 25, 2019
Closest thing I had to a baby brother in this business. I learned a lot more from @AschoffESPN than he ever did from me. What a light he was to all of us. God bless you ATL Kid. pic.twitter.com/rIfcRrZkIR

— Chris Low (@ClowESPN) December 25, 2019
What I admire most about @AschoffESPN — beyond his talent and drive — is his good nature. He suffered loss at a young age, yet was always sunny and upbeat. His enthusiasm was contagious. The holiday season has turned sober, reflective. Edward has reminded me how precious life is.

— Ivan Maisel (@Ivan_Maisel) December 25, 2019
Edward Aschoff was my other little brother and I don't have the words to fill the hole in my heart tonight. pic.twitter.com/VESoFgGVCf

— Ryan McGee (@ESPNMcGee) December 25, 2019
Be the first to receive breaking news alerts and more stories like this by subscribing to our mailing list.