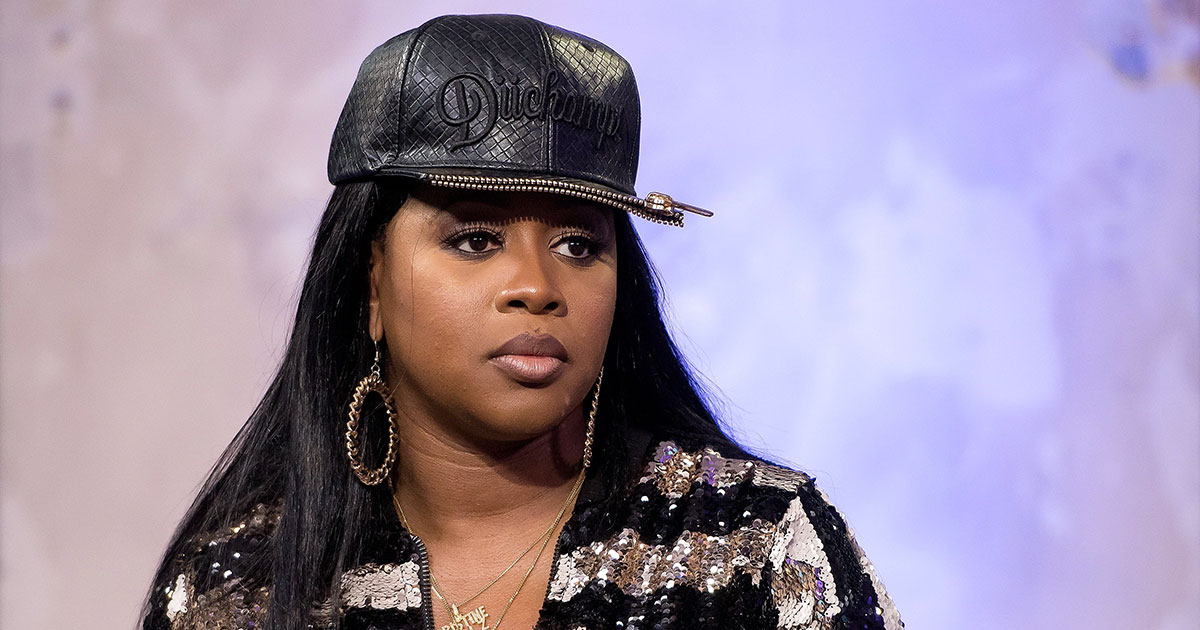 Remy Ma is confident that the video evidence her attorneys will present in court when she answers to her assault charge later this month will be enough for prosecutors to drop the case.
Remy turned herself in to police early Wednesday (May 1) and was booked for misdemeanor assault for allegedly punching fellow Love & Hip Hop New York castmate Brittney Taylor in the face backstage during a concert at NYC's Irving Plaza.
She was released on $1,500 bail Wednesday evening, and the judge put her on an 8 p.m. curfew and ordered her not to have any contact with Taylor.
Because Remy is out of jail on parole after serving six years in prison for shooting her former friend in 2007, Taylor's assault allegation sparked an investigation not only into the alleged incident, but also into whether or not the incident is a possible parole violation on Remy's part.
But Remy's defense team has evidence that they believe will clear Remy of the assault allegations and she won't even have to worry about the possibility of going back to jail.
Remy's lawyer, Dawn Florio, explained to TMZ that the "All the Way Up" femcee has security cameras installed throughout her house, and the timestamp on the footage will prove that she was at home at 9:30 p.m. on April 16th—which is the same time Brittney says Remy punched her.
So that means unless Remy can travel faster than the speed of light, or be in two places at one time, it would have been physically impossible for her to attack Brittney as claimed.
Florio added that prosecutors were "dumbfounded" in court earlier this week when the defense told the court they had evidence supporting Remy's claim that she was nowhere near Taylor when she was allegedly punched.
Florio said that once the court reviews the security footage, the prosecution's case against Remy will crumble and they'll have no choice but to drop the charges.
And not only that, but Florio says there's no surveillance footage from Irving Plaza backing Taylor's claim that she was assaulted backstage in the venue's green room area.
Additionally, Florio said Remy went to Target to pick up some stuff for her baby and didn't even arrive at Irving Plaza until around 10:45 p.m.—more than an hour after the alleged incident occurred and just 15 minutes before she hit the stage at 11 p.m.
Remy's attorneys also reportedly obtained a photo of Brittney from the night of the alleged assault with a timestamp hours afterward that shows no visible marks on her face.
Long story short … Remy's legal team feels like their evidence is solid enough for Remy to be confident that the assault charges will be dropped and she won't be headed to jail for violating her parole.
Even if the criminal charges are dropped though … Remy still has to worry about the civil suit Taylor plans to file against her.
Taylor claims she suffered serious personal injuries from the alleged assault and will most likely be seeking a cash settlement from Remy for damages.
Despite Remy's denials, however, Brittney previously insisted (via her attorneys) that she has "confidence in our system of justice."
Brittney's lawyer, Sanford Rubenstein, said in a statement: "This arrest demonstrates how serious this matter is, it is real life and not reality TV entertainment."
Florio praised her client—who just welcomed a new baby with her husband Papoose in December and also has an 18-year-old son from a previous relationship—as "the absolutely perfect parolee" since being released from prison in 2014.
However, Florio noted that the allegations also made Remy's parole officers tighten the conditions around her freedom, including requiring her to now wear an ankle monitor and submit to an earlier curfew.
Be the first to receive breaking news alerts and more stories like this by subscribing to our mailing list.