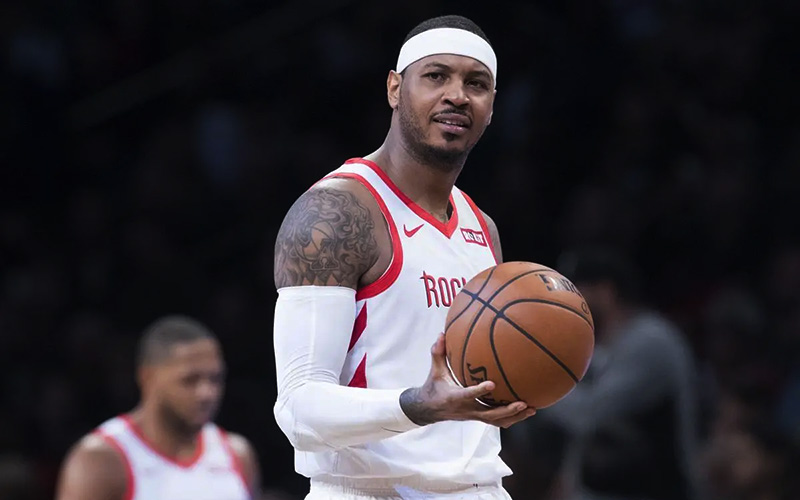 Carmelo Anthony's brief stint with the Houston Rockets is officially over, the team confirmed Thursday (Nov. 15).
Anthony, a 10-time All-Star forward, will part ways with the team after only playing 10 of 13 regular season games.
"After much internal discussion, the Rockets will be parting ways with Carmelo Anthony and we are working toward a resolution," Rockets general manager Daryl Morey said in a statement. "Carmelo had a tremendous approach during his time with the Rockets and accepted every role head coach Mike D'Antoni gave him. The fit we envisioned when Carmelo chose to sign with the Rockets has not materialized, therefore we thought it was best to move on as any other outcome would have been unfair to him."
The news was first reported by ESPN's Adrian Wojnarowski:
Carmelo Anthony's brief stop with the Houston Rockets is over, league sources tell ESPN. Anthony will part ways with team, although there are no immediate plans to place 10-time All-Star on waivers. Team announcement is expected before Rockets play Golden State tonight.

— Adrian Wojnarowski (@wojespn) November 15, 2018
Anthony, 34, will remain on the Rockets roster for now, but will not rejoin the team, sources said. "Anthony's wisest course of action could be exercising patience and allowing changes in league rosters – through trades, injuries, team needs — to create more playing options for him," Wojnarowski reported.
According to ESPN, the Rockets have no plans to immediately waive Anthony and will continue to allow his reps to survey the marketplace for a new team, which has been an ongoing process in recent days.
Because he signed as a free agent with the Rockets this summer, Anthony isn't eligible to be traded until after the December 15th trade restriction, so any potential deal with a new team would be at least a month (or more) away.
Anthony, 34, left the team last Friday, after the Rockets decided that his role would be minimized and no longer considered him as a part of their plans. D'Antoni has assigned much of Anthony's playing time to rookie Gary Clark. Anthony had been hopeful to continue with the Rockets, with whom he signed over the summer for the chance to compete for a title.

D'Antoni and Morey have both emphasized that Anthony has fulfilled every obligation and responsibility asked of him since joining the team.

"In the summer, we tried to hit a home run. It didn't work out," D'Antoni said Thursday. "He tried everything he could. He was great while he was here. It just didn't work out for whatever reason. I just thank him for his professionalism. It was good, he tried everything we could to make it work. It just didn't work out."

Anthony came off the bench in eight of his 10 games with the Rockets after starting every game of his career until this season.

Asked what was different about Anthony's role than was initially envisioned, D'Antoni said: "We just had to see how things worked out. It wasn't conducive to his game.

"He was trying to make the necessary sacrifices, and it wasn't fair to him as a Hall of Fame player to play in a role that wasn't good for him," the coach said. "… We did it, we tried it, both parties wanted it to happen, and it didn't happen. Now we're moving on."