50 Cent went for the jugular in one of his responses to Floyd Mayweather in regards to their latest online beef.
Following Mayweather's "Biggest Rat Sweepstakes" post, in which he promised cash to whoever trolled 50 the hardest on Instagram, Fiddy fired back with some pretty serious accusations.
According to Fifty, Floyd is the reason why rapper Earl Hayes killed himself and his wife, "Hit the Floor" actress Stephanie Mosely.
50 posted a photo of Floyd with Earl Hayes and Stephanie Moseley on Instagram, saying Floyd's win-loss record should really be 63-0 (instead of 50-0).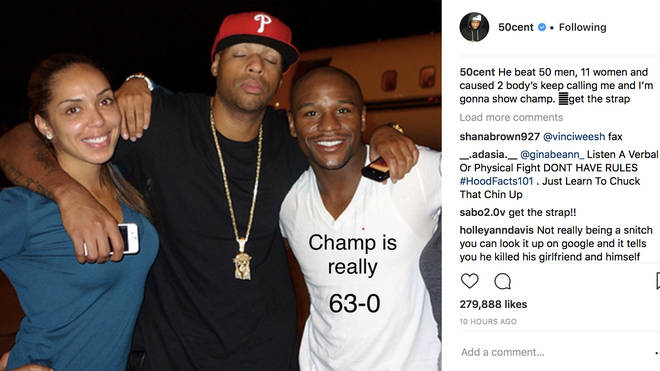 "He beat 50 men, 11 women and caused 2 [bodies]," he wrote in a now-deleted post. "Keep calling me and I'm gonna show champ." That "two bodies" part he's referring to was explained in his next post.
He wrote in a separate post, which he has also since deleted, "Tell everybody why you was on FaceTime when [Earl Hayes] killed Stephanie and himself. Because he was confronting you about f***ing his wife. You was pumping all that Trey Songz sh**, get the f*** outta here. You didn't give a f*** you just went to watch the ball game."
YIKES. Sh** just got really real! It was all fun and games until 50 Cent hit way below the belt with this one.
Be the first to receive breaking news alerts and more stories like this by subscribing to our mailing list.