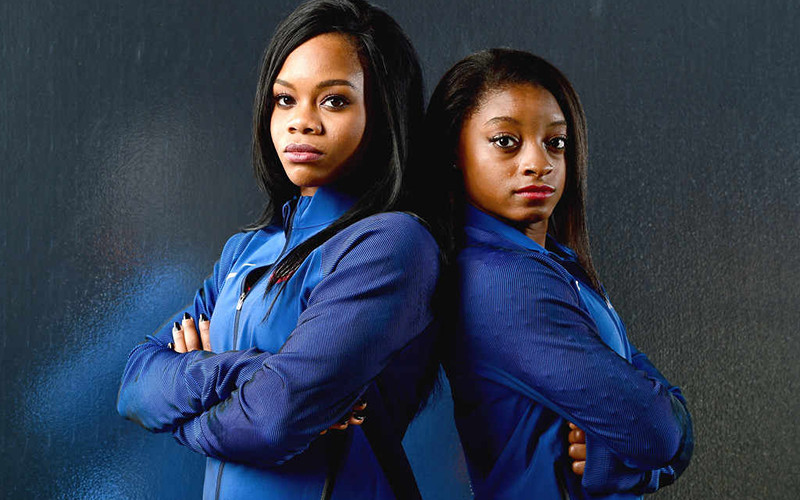 Gabby Douglas, once again, accidentally finds herself in the middle of controversy. The Olympic gymnast was dragged on Twitter and even by teammate Simone Biles for victim blaming women who have been sexually assaulted, including fellow teammate Aly Raisman.
Aly Raisman bravely came forward to accuse former USA Gymnastics team doctor Larry Nassar of sexual abuse during their treatment sessions. Over 100 women have already accused the doctor of abuse, who is now in jail facing 22 counts of first-degree criminal sexual assault.
Following a 60 Minutes interview detailing the abuse, Raisman faced some backlash for speaking out, with the haters using Raisman's nude ESPN and Sports Illustrated swimsuit photoshoots to victim shame her. Raisman responded to the criticism explaining that the way a woman dresses is irrelevant to sexual assault/harassment. "STOP VICTIM SHAMING," she wrote on Twitter.
We are all in this together. If we are going to create change I need all your help. pic.twitter.com/q9d12z0KHn

— Alexandra Raisman (@Aly_Raisman) November 17, 2017
Cue America's darling (in 2012) and Raisman's 2012 and 2016 Olympic teammate Gabby Douglas, with the victim shaming. In a now-deleted Tweet, Douglas responded to Raisman's post stating women have the responsibility to "dress modestly and be classy."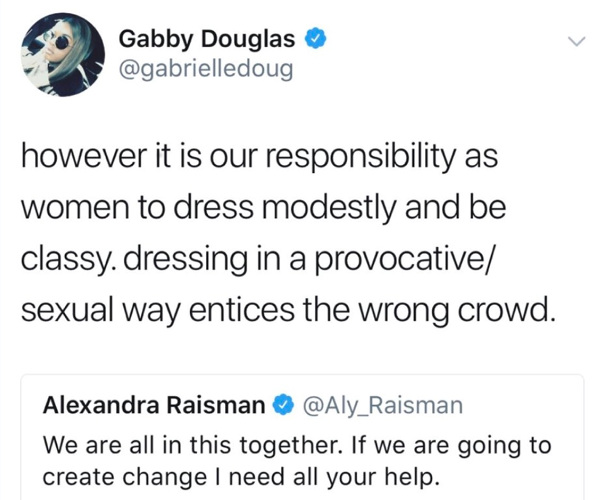 Oh, Gabby! That is the absolute worst statement to make, especially when sexual assault victims are banding together and finally finding the courage to speak out against their abusers.
The comment caused Douglas to be the No. 1 trending topic on Twitter. Fellow "Final Five" member Simone Biles quickly responded to Douglas' tweet and expressed her shock and disappointment.
shocks me that I'm seeing this but it doesn't surprise me… honestly seeing this brings me to tears bc as your teammate I expected more from you & to support her. I support you Aly ? & all the other women out there!
STAY STRONG pic.twitter.com/CccTzhyPcb

— Simone Biles (@Simone_Biles) November 17, 2017
Douglas deleted her original tweet and apologized. She conceded that sexual assault is never OK or warranted and that she stands by her teammates. She even utilized the #MeToo hashtag, but it's unclear if she, too, has had a similar experience.
i didn't correctly word my reply & i am deeply sorry for coming off like i don't stand alongside my teammates. regardless of what you wear, abuse under any circumstance is never acceptable. i am WITH you. #metoo

— Gabby Douglas (@gabrielledoug) November 18, 2017
This story honestly pains me to write, because: (1) Gabby Douglas and Simone Biles are the epitome of Black Girl Magic. (2) Victim sharing is always wrong. And (3) I am a true fan of artistic gymnastics (and not just during the Olympics).
Douglas is the first black woman to win the all-around Olympic gold medal and she passed the baton to Biles, who is now considered to be one of the greatest gymnasts in history. Unfortunately, the two have not been as close as we would all like.
Douglas notably faced heavy criticism during the 2016 Olympics for not placing her hand over heart during the national anthem as The Final Five won the gold team medal. During this controversy, it seemed her team did not rally around her.
She faced more criticism days later for not standing when Biles won the all-around gold medal, an event Douglas was unable to defend her title in due to a 2 per country/team rule, despite placing third in the world (behind Biles and Rasiman) during the qualification round in Rio.
Douglas has since separated herself from The Final Five team and has noticeably been absent from several major group appearances.
Gabby Douglas is my girl, but I also have to call it as I see it. And, unfortunately, she was terribly wrong in this situation. Hopefully, this sparks a conversation between her and Raisman (and maybe Biles) so that she better understands sexual assault and the problems of victim blaming.
Be the first to receive breaking news alerts and more stories like this by subscribing to our mailing list.